Dolphins Head Coach Brian Flores explained the team's roster-building philosophy Monday morning, and it revolves around two basic principles.
The first is that every decision is made with the present and the future in mind.
The second is that every decision is collaborative.
"(For) every team this year obviously is at the forefront, but every team in this league is looking into the future, in future years, and we're no different," Flores said. "We keep that in mind as well as today and this year's team. You have to balance all those things as an organization.
"How you do that is through communication, open, honest communication. This is what I think, this is what you think, let's talk it through like any decision you make, that's the process. I think we have a good process. It's something that we've worked on really since I got here. Any decision we make it goes through a certain process. It's well thought out. A lot of time goes into it, a lot of thought goes into it, and all those variables that we're talking about — production on the field, age, salary cap — they all play into it. I know we want to have one reason why this happened or that happened, but that's just not how this works."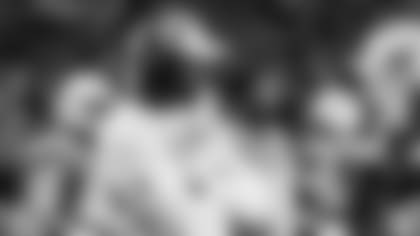 That combination of factors applied when it came to the decision to release veteran safety T.J. McDonald on Sunday night.
Flores dismissed as inaccurate the notion that the move was made because McDonald was seen as a bad fit for the kind of defensive scheme the Dolphins want to employ.
"Anytime you make a decision, you try to do it in the best interests of the team," Flores said. "We just felt like in this situation that was the case with T.J. He's done a good job with this organization for the last few years. Again, all those decisions are tough, but a lot goes into them.
"(McDonald is) a guy that's got a good skill set. With T.J., at the end of the day, it just wasn't the right fit."
The Dolphins will have a lot of personnel decision to make this week, with every NFL team required to get down to a 53-player roster limit by Saturday at 4 p.m. ET, and Flores said that while the salary cap has to be factored into every decision, the goal is to pile up as many quality players as possible.
"Good players, productive players and guys we feel fit what we're trying to do offensively, defensively, in the kicking game, we're going to try to keep around," Flores said. "That's going to be the case as long as I'm here. Sixth (year), seventh, eighth, rookie, 12th, if you're a good player who works hard and embodies a lot of the qualities we're looking for, that's what we're looking for."