Before he joined ESPN as a reporter in 2012, Field Yates interned four summers with the New England Patriots front office splitting time with the coaching and scouting staffs.
So he clearly possesses insight beyond his current duties when it comes to discussing the 2019 NFL Draft or new Dolphins Head Coach Brian Flores.
When it comes to the latter, Yates is right on board with what seems to be a unanimous verdict that the Dolphins made a great decision with the hiring of Flores.
"(He's) somebody I'm not sure I could respect any more than I do, someone that I've known 12 to 14 years now," Yates said during an appearance on The Audible. "I think the Dolphins are in excellent hands with him as the coach.
"There is a certain relatability that Brian Flores brings. Brian did not ever appear in an NFL game, but was a really well regarded player during his time at Boston College, sort of an undersized linebacker who got he most out of his ability. Players have a certain respect for him. There's a certain level of accountability that he can bring right away that will play really well with these players that are meeting for the very first time as the offseason program begins.
"Beyond that, he has seen the game through the eyes or at least close to through the eyes of, in my opinion, the greatest coach of all time in Bill Belichick, you're bound to learn a lot. Brian also has spent time doing a lot of different things in his football career. He scouted, he's coached special teams, he's coached defense, and that stuff matters because ultimately when you go from defensive coordinator in practice into the head coach of a team, there's a lot of added responsibility. … Brian is uniquely equipped to be one of those coaches that does a lot of good early on in his head-coaching career."
When it comes to the draft, Yates said he very well could see the Dolphins go for a front seven player on defense with the 13th overall selection.
As for what position, Yates stressed that position flexibility will be important because players so often move around on defense.
"They're going to want to look for edge players like (Florida State's) **Brian Burns**," Yates said. "Maybe they're going to look for a guy like (Houston's) **Ed Oliver**, who can disrupt from the interior. But I think it's a nice sweet spot for the Dolphins because if they aren't looking quarterback that other teams are going to leap ahead of them and push those quarterbacks and they're going to have their pick of one of these unique defensive players that probably can play a few different spots right away.
"Most people that follow are well aware this is a defensive front seven-heavy draft. Thirty-two teams in the NFL could always more pass rush. This is a good year especially to be at or near the top. The defensive line is certainly one area of surplus."
Yates said there wasn't as much buzz for the quarterback class of 2019 as there is for those of 2020 or 2021, though quarterbacks always tend to end up moving up at some point.
"If you love a guy and he's there, you gotta take him," Yates said, "but the Dolphins are in this spot where if the quarterback that they prefer is not there and the price is too steep to move up and acquire that player, there's enough good picks on the board that taking somebody else at a position that might be more valuable right away and you might believe in the player more is a totally sensible move."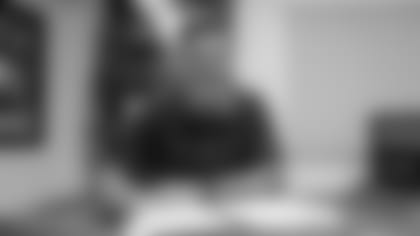 "He knows what his role is," Yates said. "He's accepted as much. I don't think Ryan Fitzpatrick would sign with the Miami Dolphins if he didn't know the deal up front. If they take a quarterback in the first round or the second round or the third round and things are tilting more in favor of the right side of the win-loss column than the left side and it's November and you have to experiment with a young quarterback, that's part of the deal. His value is not just to probably be the opening-day starter but also to help a young quarterback if one is introduced into the fold."
The addition of Fitzpatrick was part of the overall plan for the Dolphins, which Yates suggested involves identifying the core players who'll be around for the next 7-10 years, getting the salary cap in order and adding draft capital.
Above everything else, Yates is confident the Dolphins have the right men to execute that plan.
"It is an eye toward the future," he said. "And I'm not saying the Dolphins want to show up on Sundays and lose because you can't afford a culture where losing is acceptable. The vision makes sense to me for what the Dolphins are doing.
"The future is bright for the Dolphins. The right people are in place with Chris Grier and Brian Flores and a really strong staff on both sides."