High school phenom. Son of a coach. Three-sport state champion.
Guard Evan Boehm, who made his first start for the Dolphins last Sunday against the Los Angeles Chargers, seemed destined for success from his days at Lee's Summit West High School in Missouri.
In his fourth NFL season, his travels have taken him to Miami, and he hopes this becomes his home for a long time to come.
"I'm happy to be here," Boehm said during an interview on The Audible. "I'm glad to be here. I want to be a part of this team and help them win football games and do the right thing and show them that I'm not just some guy off the street who can't play football. I want to go and I want to be a dominant physical force in the football game."
Boehm joined the Dolphins in a trade with the Indianapolis Colts the day after the last preseason game.
He was reunited in Miami with offensive line coach Dave DeGuglielmo, who coached the Colts offensive line last season. DeGuglielmo's tough style of coaching brought Boehm back to his high school days, and he loves it.
"I like it that way," Boehm said. "I think every coach (in high school) had free reign to just jump on me when I did something wrong. There's been times when I was woken up in the middle of the night when all the coaches were downstairs watching film, pulled out of my bed and saying, hey, 'What happened on these two plays? Explain to me your thought process.'
"So I kind of got it at an early age, but Guge does it in a way to where he makes it so hard during the week and during practice to where when you go out on Sunday, you don't really think; you just go out there and play and you do what Guge has been harping on."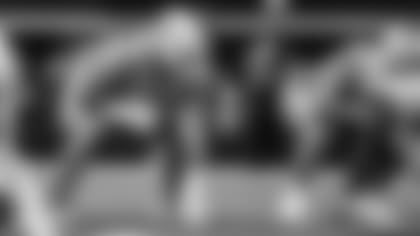 Royce Boehm was the first coach at Lee's Summit West and he retired in 2015 after 12 seasons and three state championships.
One of those came during Evan's junior season when he also won state titles in wrestling and the discus. Before he even played for his father in high school, Boehm received scholarship offers from three different schools as an eighth grader.
As a senior at Lee's Summit West, Boehm was so dominant, he became the first offensive lineman to win the Simone Award, given to the best high school player in the Kansas City metropolitan area.
ESPN ranked Boehm as the No. 2 guard in the nation and off he went to the University of Missouri, where he played alongside Dolphins defensive end Charles Harris.
To this day, Boehm says his wrestling experience helps on the football field.
"I didn't start playing football until seventh grade (because) I was a soccer player," Boehm said. "So you put the footwork and the balance from wrestling into what I'm doing now, I'm always bending my knees in a wrestling stance trying to find a leverage, trying to find something staying balanced. It's the same thing in the offensive line. It's finding that leverage."
Boehm appeared in each of the Dolphins' first four games this season, but saw his first extensive action against the Dallas Cowboys when he replaced Michael Deiter at left guard after Deiter moved over to left tackle to replace Jesse Davis, who left the game with an elbow injury.
The Dolphins also lost right guard Danny Isidora in that game, and it was Boehm who got the call to start in Isidora's spot against the Chargers.
After a little more than a month in Miami, Boehm is starting to settle in a bit, though he's happy to hit the pause button this week with the bye.
"Especially for the new guys that have come in, these first four weeks have been super hectic and you're rolling," Boehm said. "You're pretty tired right now. This is a perfect time for us to just take a deep breath, relax, evaluate ourselves on how we did the first four weeks and how are we going to change that for the next 11."
There have been a lot of moving parts on offense since the end of the preseason, but Boehm sees progress with the unit.
"Coming in as a new guy, you don't know really what to expect, so I'm learning a whole new offense," Boehm said. "My first week here, my first week and a half, it was a whirlwind. My head was spinning. But it's all settling down for me and I think it's starting to settle down for everybody else. I think Coach Flo said it the right way, we're a couple of plays away in every aspect of the game. You look at the first half in this game (against the Chargers) compared to the first half in the last three games, I mean, we're right there. And we still left plays out on the field.
"We're doing a good job of it of staying positive and going out there and just working as hard as we can to become a better football team. If we clear those eight, nine, 10 plays up throughout the game, these ballgames are going to be different stories."