Isaiah Prince admitted he was a bit nervous before his first NFL start Sunday, but he was satisfied with his effort afterward.
The rookie sixth-round pick from Ohio State went from being inactive for the first three games of the season to being asked to step into the starting lineup after right tackle J'Marcus Webb moved over to the left side to replace the injured Jesse Davis.
"It was definitely surreal for me," Prince said after the game. "It's been a dream for me since I was a child, since second grade. That was definitely exciting for me."
"I just wanted to know that I gave it my all and I did my best to help the team."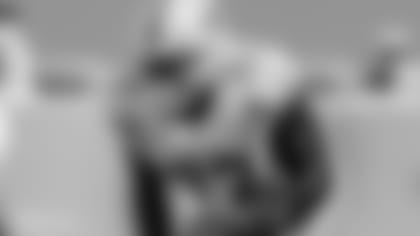 The Dolphins offensive line faced one of the best pass-rushing tandems in the NFL in the Chargers' Joey Bosa and Melvin Ingram, and did a solid job in containing them.
Bosa ended up with half a sack and Ingram wasn't a factor before he left the game early with an injury.
Prince began the game face-to-face with Bosa, his former college teammate, though he often got blocking help in pass protection.
With his start, Prince became the first Dolphins rookie drafted in the fifth round or later to start a game since 2008 when guard Donald Thomas started the opener against the New York Jets.
"I didn't really know up until about Thursday," Prince said. "(I was) just kind of working and practicing, just trying to get better, learn the plays and just see where I could fit best to help the team."
Prince said Davis was particularly helpful in helping him deal with the pressure of the situation.
"He just kind of let me know, he gave me reassurance that it's OK and that I could do it," Prince said. "I would be lying if I said I wasn't nervous in my first NFL start. It made me feel comfortable in just knowing that it's OK. Just keep a level head out there."
Along with Davis, Prince also mentioned offensive line coach Dave DeGuglielmo and veteran center Daniel Kilgore in helping him making progress since the start of his first NFL training camp.
The key now is to keep building on that progress.
"I feel like I've gotten a lot better since training camp with the help of my coaches and teammates," Prince said. "I'm just thankful for them."