Wide receiver Isaiah Ford's first NFL catch was a long time coming, but in the heat of the action he simply handed the ball back to the official.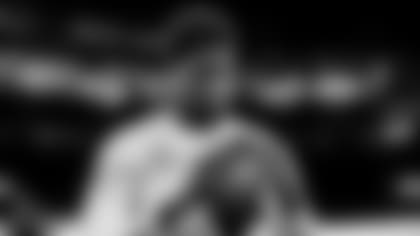 Ford, however, did keep the jersey he wore Sunday when he made his first two regular season receptions, almost two and a half years after the Dolphins selected him in the seventh round of the 2017 NFL Draft.
Ford, who was playing his first game of the season after being promoted from the practice squad last week, made career catch No. 1 in the second quarter with the Dolphins and Los Angeles Chargers tied 10-10. The 7-yard reception from quarterback Josh Rosen converted a third-down situation and kept alive a drive that would end with a missed 50-yard field goal attempt.
"It was a pretty critical drive for us," Ford said after practice Wednesday. "When they called the play, we practiced it all week. We got a similar look to the one that we were getting all week and Josh made a good throw. And I just caught it.
"Once I was out there, it was just like playing football again. I wasn't really like, oh my god, it's coming to me or anything like that. I think I'm at the point now where it's just about playing football. I've studied enough, watched enough, so I have confidence in my abilities and in my craft to when my number is called I'll make the play."
It's been a long road for Ford, who missed his rookie season because of a leg injury, spent most of the 2018 season on the practice squad before getting the chance to play in one regular season, and this year was among the cuts down to the 53-man roster.
With Allen Hurns and Albert Wilson both sidelined for the Chargers game because of injuries, Ford got his chance and he made the most of it.
"I was emotional," Ford said. "I was anxious. Had like some tears I was kind of fighting just because these three years for me in the NFL have been a rollercoaster. Coming from where I was in college to now, I've matured so much. I've persevered through so much. Went through so much adversity, and I'm sure I'm not done going through adversity now. It was a step in the right direction and it was emotional for me to have that opportunity."
Ford, who averaged 70 catches and eight touchdowns in his three seasons at Virginia Tech, clearly has the skillset to become a productive NFL wide receiver.
He's hoping he'll keep getting more and more chances to prove it once the Dolphins return from their bye this weekend, which Ford will spend back at Virginia Tech where, among other things, he'll watch his girlfriend, Kelsey Irwin, and the VT women's soccer team go up against Duke.
"It felt good for sure to be out there on a Sunday in pads," Ford said. "To actually have your number called and to have the opportunity to make a play to kind of spark the team and keep the drive alive, that was good."