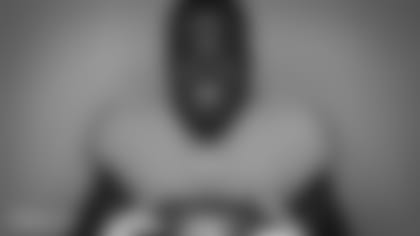 The fourth-year receiver/returner was thankful for the opportunity to provide for his mother, thankful for the validation the extension demonstrated, and thankful for the statement the Dolphins made by locking him through the 2023 season.
"It's a very big deal," Grant said. "It just shows that the hard work has paid off, all the criticism and everything that went with it. Just from people saying, oh, I can't make it to the league, you're not going to be able to make the roster, this and that, and then just going out each and every day with that on my shoulders and just playing and just going out there and saying, screw what they say, I'm going to go out there and make the best of my moments.
"And also just from a financial standpoint, you know? It's a great blessing. A very big blessing. I just want to take care of ma. My family is always going to be straight. My wife and kids are going to be great. I just want to take care of my mom because she put in a lot of hard work, and I put in a lot of hard work to make sure she can get a chance to breathe."
The four-year extension came last week as Grant prepared to enter the final year of the contract he signed as a rookie sixth-round pick in the 2016 NFL draft.
Grant proved to be a dynamic returner from his rookie season and he's done nothing but get better as a wide receiver with each passing year.
"This guy is fast," Head Coach Brian Flores said. "This guy is elusive. He's strong for a little guy, and he works hard. Football is very important to him, and being part of this team is very important to him, so congratulations to him. I think it was well deserved, and we're happy to have him."
That last part really was meaningful for Grant.
The Dolphins identified him as one of the players they want to have around as they try to build a contender.
"Man, it's truly an honor, just for them to just have the faith in me and saying that, 'You're one of our key guys and we want you here for a long term,' " Grant said. "It just brings joy to my heart. It just makes me want to go out there and play even harder."
Grant didn't hesitate when he was asked what he planned to do with the new money headed his way, saying it was to take care of his mother.
"Not anything in particular," Grant said. "I'm just still thinking about what I should do. I definitely want to get her a house, but I'm kind of just debating about it. Should I wait? But I definitely want to take care of mom, though. She's worked her butt off to raise three of us all by herself. I'm definitely going to take care of her."
In the immediate future, the focus for Grant is to round into football shape for the start of the regular season.
Grant missed time in training camp with an injury and hasn't taken part in any preseason games, though he was back at practice Sunday after missing time last week.
Grant has big goals for this season and beyond, both in the return game and as a receiver.
As a returner, he already has tied the franchise record with three kick returns for touchdowns (two punts and one kickoff) and last year became the first player in team history with one of each in the same season.
But Grant doesn't want to just be the greatest return in team history. His goals there are much loftier.
"I think I can have a big impact (in the return)," Grant said. "I feel like those are the guys that I look up, especially Devin Hester and Dante Hall. It was Dante Hall before Devin Hester came about. My goal is try to top everything they have done. I want to be known up there with those guys. I want to go out there and put on a show just like those guys. They can change the game just like that.
"When I got out there, I had a few hiccups. Then next thing you know, I started getting good at it. I'm trying to be the best in the league in this. I just go out there every practice and try to be the best. I'm trying to be the best in the league in kickoff, punt return, and everything I do."
After not catching a pass as a rookie when he was used almost exclusively as a returner, Grant had 13 receptions in 2017 followed by 21 last year before his season was cut short by a foot injury against Green Bay in November.
Exactly how he'll be used in 2019 remains to be determined, but Grant is fully expecting a bigger role on offense.
"I think they're (number of catches) definitely going to go up again this year," Grant said. "I feel like I am going to have a bigger role, whatever Chad (offensive coordinator Chad O'Shea) and those guys have for me. I feel like the receptions are going to go up. I'm going out, doing whatever the coaches have for me, just honing my craft, perfecting my routes, catching balls every day, just making sure that whenever I get there, my routes and fundamentals are to a point whenever I'm ready to go into the game."
Grant is excited about not just this year, though.
As much as the Dolphins were happy to lock him up for four more years, Grant was happy the extension ensured he'll be spending the next several years with the new coaching staff, which has made a big impression on him very quickly.
"The reason I re-signed was because I love the coaches," he said. "I love the organization. I just love the way that Coach Flo coaches, the rough and tough coaching down to a T. I love the position coach, Karl Dorrell. I love Chad O'Shea. I love all those guys and just the way they coach, I felt like I was going to have a bright future here.
"Those guys are going to push me to be the best that I can be. Coach Flo does it every single day. For example, I bobbled a punt, and he told me, 'A bobble is a drop to me.' I was like, 'What, Coach? I caught it.' He was like, 'That's a drop to me.' It's just little things like that makes me think Coach wants the best out of me. With that said, it was no hard decision. They're going to make me a great athlete."