Preston Williams continues to make major contributions as a wide receiver in his rookie season in the NFL, but now he's also shown he can be productive as a punt returner.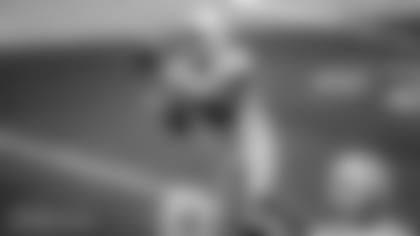 With regular returner Jakeem Grant sidelined by a hamstring injury, Williams took over the punt returning duties against the Washington Redskins last Sunday and responded by producing the top three returns by the team this season and averaging a healthy 10.5 yards on four returns.
"It's still football at the end of the day," Williams said after practice Thursday. "No matter where I'm playing, I enjoy all positions. I can go to defensive end and enjoy that too."
While he would be a bit on the lean side to play defensive end, the 6-foot-5, 218-pound Williams also is unusually tall for a punt returner.
His quickness with those physical dimensions is part of what makes him unique as a player.
Williams had only two punt returns during his college career, both of them coming last season for Colorado State, but it didn't stop the Dolphins for giving him a look as a punt returner in the preseason.
While his 2.3-yard average on six returns in the preseason was pedestrian, Williams clearly gained the confidence of his coaches to put him back there when Grant was forced to miss the Washington game.
Along with three catches, Williams had returns of 0, 12, 21 and 9 yards. The Dolphins didn't have a return longer than 5 yards in their first four games.
"I thought he did well overall," Head Coach Brian Flores said. "Obviously ball security is number one on our priority list. We thought he did a good job there. One of them was a fair catch he had there. The ball got away from him a little bit, but he made the catch. He got the ball vertical on the return units. I think that was a phase where we had some missed opportunities over the first four games, but we got some positive yardage last week and hopefully we can continue to do that this week. With Jakeem being down for a game, he went in there and was solid for us."
Williams also was satisfied with his performance, though he bemoaned going out of bounds at the end of his 21-yard return in the fourth quarter, though it still was good enough to set up the Dolphins at the Washington 41-yard line on their next-to-last drive.
For Williams, the key to his productive returns was simple.
"Just looking at leverage on my blockers," he said, "see what leverage they've got on the other team. Just making a clean catch, thinking fast."
On offense, Williams was held to a season-low two catches, good for 31 yards. He also was flagged for a dubious offensive pass interference that negated a Josh Rosen completion to Albert Wilson.
Williams said the penalty was one of the lessons he learned last Sunday in what has been a continuous learning process in his rookie season.
"Still growing, still learning," he said. "It's a long season. Every week I learn something new."