One day after coming up with one of the most spectacular interceptions the Dolphins have had in many years, Steven Parker still was waiting for his precious memento to arrive at the Baptist Health Training Facility at Nova Southeastern University.
His pick wasn't just remarkable because of how he achieved it, but also became it was his first as an NFL player.
"Hopefully it should be getting here pretty soon," Parker said. "I don't have it right now. I've got to put that up in my trophy case.
"Somebody actually ended up picking (the ball) up. I flicked it and just kind of ran off, so somebody ended up getting it for me. Thank God because I needed that one."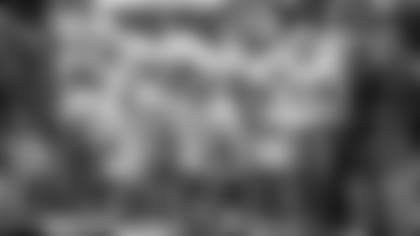 The interception came in Parker's eighth NFL game, all of them with the Dolphins this season.
Parker, who joined the team Sept. 1 when he was claimed off waivers from the Los Angeles Rams, made his third start of the season against the Colts on Sunday.
The first two starts came against Dallas in Week 3 and against the L.A. Chargers in Week 4, and the third came on week after Parker didn't get any defensive snaps in the victory against the New York Jets.
"It was opportunity, and when that opportunity presented itself, you gotta go out there and just have fun, play among yourself but be a part of the scheme," Parker said. "Make sure that you're doing your job. That's the most important thing, and I feel like as a defense that's what we did. We flew around, we did our job."
Parker's interception came on Indianapolis' first drive when it appeared the Colts were ready to cash in on a Dolphins turnover.
But on a second-and-goal from the 9-yard line, Parker got his left hand on the ball after tight end Eric Ebron caught a pass from Brian Hoyer and was able to steal it away with both hands after the two players fell on the ground in the end zone.
After conflicting signals and a conversation among the officials, the play was ruled a touchback instead of a touchdown. The ruling then was confirmed after review.
"I already knew I had that ball," Parker said. "In my mind, it was already a pick. They had already ruled it touchdown, but in my mind it was already an interception."
The play proved crucial in the Dolphins' 16-12 victory.
Parker said Monday he had seen the play quite a bit since it happened.
"I'm not going to lie, I've watched it 1,000 times," Parker said. "A lot of people are sending me the videos. Gotten a lot of good reviews on it."
Yeah, that play definitely deserved two thumbs up.