McShay Predicts Tua To Miami In Second Mock Draft
Come April, the Dolphins' front office and coaching staff will have some big decisions to make with their bevy of draft picks.
Todd McShay dropped his second mock selection for the 2020 NFL draft. Miami's three first-round picks (5, 18 and 26) have garnered a significant amount of media attention.
McShay's prediction for the Dolphins' first pick didn't change from his original mock draft: Alabama quarterback Tua Tagovailoa. McShay joined Scott Van Pelt on SportsCenter Monday night to discuss his mock draft and discussed Tagovailoa. McShay said he'd be "frightened" to take Tagovailoa at five due to his injury history, but also described him as a "lefty version of Drew Brees."
"This is one of the most unique cases that I've ever seen at the quarterback position," McShay said. "You're not going to know making that decision. But, how do you pass on him knowing that there's a chance that he can become your franchise quarterback and become one of the elite players, and could lead you to a Super Bowl?"
McShay also touched on Miami's No. 18 and 26 picks. With their second choice, McShay has the Dolphins taking offensive lineman Andrew Thomas out of Georgia. In his write-up, the ESPN analyst called Thomas "raw," but said he "has some power to his game." Thomas was a Walter Camp First-Team All-American, and also took home All-SEC honors following the 2019 season. He was one of Georgia's four team captains in 2019 and started every game he played in with the Bulldogs during his college career (15 games at right tackle, 26 at left tackle).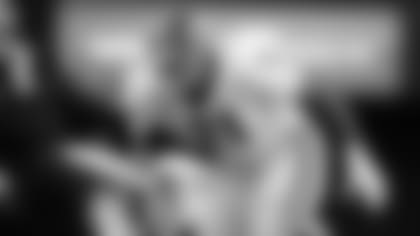 At 26, McShay tabbed outside linebacker Zack Baun as the Dolphins' final first-round pick. The Wisconsin linebacker registered 12.5 sacks and a career-high 75 tackles (19.5 for loss) in 2019. McShay believes he can set the edge as a pass rusher for Miami, saying his game "jumps off the tape." Baun has a strong connection to Miami as well; he played with current Dolphins LB Andrew Van Ginkel for two seasons. The Dolphins selected Van Ginkel in the fifth-round last year.
Brian Flores One Year Anniversary With Dolphins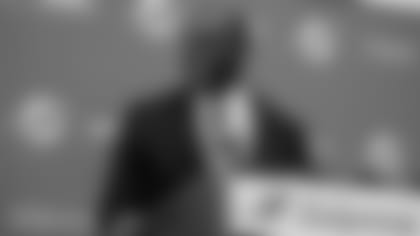 Owner Stephen Ross Dedicated To Dolphins
Dolphins owner Stephen Ross has no intention of selling the team. During the days leading up to Super Bowl LIV at Hard Rock Stadium, the "host" of the event was asked several questions regarding his ownership and the future of the Miami Dolphins.
"People want to write, they can write whatever they want," Ross said. "I'm the owner 'til I die. I love it."
He also took time after the Super Bowl to thank the NFL and the Miami Super Bowl Host Committee for their "commitment and hard work" before, during and after Super Bowl LIV.
"This was a great week for South Florida and tremendous showcase for a totally remade Hard Rock Stadium as a global entertainment destination designed to host big events," Ross said in a statement. "The entire team, led by Tom Garfinkel, did an amazing job of not only transforming the venue, but creating a culture for sustainability."
Zach Thomas Misses Out On Hall Of Fame
Zach Thomas will have to wait at least another year before being enshrined in Canton.
Thomas was one of the 15 individuals up for enshrinement into the Hall of Fame. The former Dolphins linebacker was among the players in the final vote, but ultimately was not included in this year's class. The 2020 group includes fellow defensive players Troy Polamalu and Steve Atwater, along with wide receiver Issac Bruce, University of Miami alum Edgerrin James and lineman Steve Hutchinson.
Still, despite the disappointing news, Thomas took the news in stride and continued to reiterate his thankfulness to the game of football.
The effort was there to get Thomas into the Hall of Fame on Saturday. Team officials provided Thomas's presenter, Armando Salguero, more than 50 iPads to hand out for his presentation.
On those iPads was Hall of Famer offensive lineman Kevin Mawae's induction speech from last year.
"Zach Thomas was my nemesis," Mawae said. "Zach was one of, if not the smartest players I ever faced. He loved the game, had fun when he played and brought the best out in me."
"When people ask me 'Who is not in the Hall of Fame that I think should be?' It's easy for me, number 54 from the Miami Dolphins."
It won't be Zach's last opportunity to get enshrined. Thomas will have the chance again next year during the 2021 Hall of Fame vote. Former players eligible for the Hall of Fame in 2021 include Peyton Manning, Charles Woodson and Calvin Johnson.
Super Bowl Handed Off to Tampa
Even though the Super Bowl won't be played at Hard Rock Stadium next year, the big game will stay in Florida—Tampa will host Super Bowl LV after Monday's handoff ceremony.
Miami-Dade Mayor Carlos A. Gimenez handed the "keys" to Tampa Mayor Jane Castor—Tampa will be hosting its fifth Super Bowl.
South Florida will have to wait at least four more years before hosting again. After Tampa hosts Super Bowl LV, Los Angeles, Arizona and New Orleans will get their turn.
Ross isn't opposed to hosting the festivities again, saying he thinks Miami – along with a few other cities – should be the perennial hosts of the Super Bowl.
"We have the best weather in the country. We have the best facilities. We have all the hotels. It's where the people want to be."