Mike Oliva of DolphinsTalk.com recaps the Tuesday Morning Headlines, community news, and more for your Miami Dolphins.
Morning Headlines
On Sunday, Miami's defense had a productive first half, holding Buffalo to just three points and 122 total yards. It was Buffalo's lowest first-half output in a regular-season game since December 29, 2019, against the New York Jets (0 points) .
Dolphins safety Brandon Jones recorded a tackle for loss on Sunday, giving him a career-high four for the season. He had three as a rookie in 2020.
On Monday, head coach Brian Flores gave an injury update on wide receiver Will Fuller and center Michael Deiter, who are both on IR. Flores said, "Those guys are still week to week. We won't see them this week."
Coach Flores was also asked if he ever thinks big picture, looking backwards on what's going on this year or the first two-and-a-half years of his tenure, and tries to use any of that to move forward. Coach Flores said, "Yeah, I try to look back and reflect on some other experiences that are similar. But every year is so different, every team is so different….you just try to think about the group you have now and what's the best way to motivate the group we have now to turn the tide."
Dolphins cornerback Nik Needham was asked for his perspective on playing with rookie Jevon Holland, who has played every snap at safety the last couple of weeks. Nik said, "You can definitely see the growth in Jevon. He's becoming a more vocal leader trying to keep guys, really getting on guys, taking that role. Even though he's young, we listen to him and we know he'll go out there and execute. He wants to win just like us. It doesn't really matter how old he is now, he's out there starting like you said. He's one of the leaders of the defense back there because he sees everything and has to make the calls. I think he's been playing well."
Quote of the Day
What about the NFL have you learned that maybe caught you by surprise?
Tackle Liam Eichenberg: "I would say that at the most important moment, you need your fundamentals and technique to be at it's best. In college you can kind of get away with certain things, but in the NFL, you have to be at your best every single play."
Miami Dolphins in the Community
Last Thursday, the Miami Dolphins Staff participated in the Pepsi Dig In Lunch program. Dig In aims to generate at least $100 million in sales over the next five years for Black-Owned restaurants.
Trivia
Who is the Pro Football Hall of Fame middle linebacker that was traded by the Boston Patriots to Miami and became a leader of the Dolphins defense?
(scroll to the bottom of the page for the answer)
Happy Birthday!
Happy Birthday to Miami Dolphins Hall of Fame Offensive Lineman, Larry Little!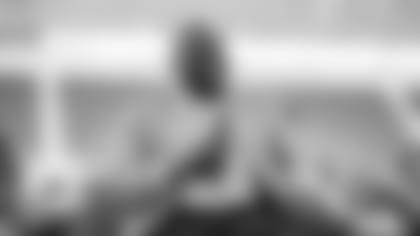 On This Day
The Dolphins traveled to Denver and came away with a 26-17 victory over the Denver Broncos. Chad Pennington threw for 281 yards and Dolphins wide receiver Greg Camarillo had 11 receptions for 111 yards in the win. Dolphins kicker Dan Carpenter kicked four field goals, Ronnie Brown added a rushing touchdown, and Miami Dolphins cornerback Will Allen intercepted a Jay Cutler pass and ran it back for a touchdown in the win.
Answer to Trivia Question: Nick Buoniconti