"When I first got in the league, I said, 'If there's one guy I want to sack, it's (Tom) Brady,' " Biegel said Monday. "Probably the next guy would be (Green Bay Packers QB) Aaron Rodgers. (I have) a lot of respect for Brady and what he's done. He's a great player. So to be able to kind of check that one off the box is big. (I was) definitely excited."
Acquired in a trade with the New Orleans Saints the weekend before the start of the regular season, Biegel was among the Dolphins' top performers against the New England Patriots on Sunday.
Along with his sack, Biegel had another quarterback hit and he also had the coverage on running back James White on a third-down incompletion by Brady.
It wasn't a bad output for 16 defensive snaps, the kind of effort that could lead to more playing time on defense.
And that is exactly what Biegel envisioned when he came to Miami in exchange for fellow linebacker Kiko Alonso.
"I'm going to go out there and rush and do what I need to do to be able to get those snaps," Biegel said. "For me, it's continuing to get better every single day, have good showings like I did on Sunday and the reps and the more PT (playing time), that will come. For me, it's continuing to develop and grow and get better every day here."
The take-down of Brady early in the third quarter was the first career sack for Biegel, who was playing in his 25th NFL game. He appeared in nine games for the Green Bay Packers in 2017 and 14 for New Orleans last season.
Biegel, however, did show some pass-rushing ability during his time at the University of Wisconsin, where he had 7.5 sacks as a sophomore and 8 sacks as a junior.
For the sack Sunday, Biegel credited the entire defense.
"I think the defense was kind of working well together," Biegel said. "It was me rushing up to the passer, getting to the second level, coming underneath. I think it was more a coverage versus me having a good move. It was kind of a second effort. Secondary on my rush. Good coverage in the back end and kind of fell off and slipped off and made a sack. It was a good sack. I'll chalk it up to a good overall defensive play, and hopefully there are many more to come this year."
Biegel, who was drafted in the fourth round of the 2017 draft by the Packers, has an interesting background.
For one thing, he comes from a football family.
His grandfather, Ken, is enshrined in the National High School Athletic Coaches Association and Wisconsin Football Coaches Association halls of fame. 
His father, Rocky Biegel, played linebacker at Brigham Young from 1988-92. His brother, Hayden, played at Wisconsin from 2013-15.
And, yes, the Dolphins linebacker and native of Wisconsin is named after legendary Green Bay Packers coach Vince Lombardi.
"Football is in my blood, and that was one thing my dad always taught me was effort," Biegel said. "There's a lot of things you can't control, but there's one thing you can control and it's your effort. I obviously had some coaches at Wisconsin, too, that really emphasized effort, so that's kind of the way I play: high-motor guy. For me, it's a compliment when people say, 'Hey, you're a high-motor guy.' That's something that I wear, the chip on my shoulder, being able to go out there and play with a high motor and make some plays."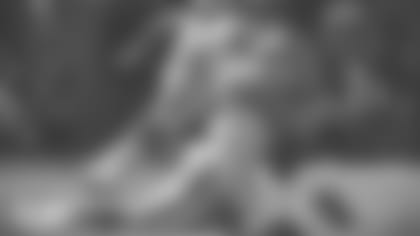 It has been a hectic couple of weeks for Biegel, though he's happy his wife and 4-month-old daughter are settling into their new home in South Florida.
Biegel is hoping South Florida remains his home for a long time.
"I really do love being here," he said. "When Miami traded for me, I knew it was going to be a great opportunity because this is a young team. There are a lot of opportunities. I came from New Orleans where they're one of the oldest veteran teams in the NFL. So for me to come over here, there are opportunities for obviously more playing time, there are opportunities for me to develop as a leader here. I was extremely excited, and for me, it's to be able to continue to show myself, develop myself and show this team and organization what I'm about. I'm extremely thankful to be here. It's been a whirlwind from just figuring out my living situation, learning the playbook, learning the guys in the locker room, names, everybody, but I'm excited to be here, and I'm excited to hopefully stick around here for a long time."
More performances like the one he had against New England could help him accomplish that goal.
"After looking at the film, I was really happy with what I was able to do," Biegel said. "I think the coaches are starting to get confidence in me to be able to go out there and do what I do, which is rush the passer and have some good rushes to put some pressure on (Tom Brady). Obviously that helps the back end and helps the defense win games. As I continue to learn the playbook and I get familiarized with the defense and what they want from me, I'm going to continue to grow, but it was definitely a good showing on Sunday. (I was) happy with what I did and (will) continue to stack those."