The 2020 Scouting Combine is one of change. The structure of the week is different and so is the approach the teams will take conducting their interviews here in Indianapolis.
Asked how he feels about the changes to the combine, Brian Flores was direct in his response. "Adapt or die," the Dolphins head coach said.
Flores was also forced to adapt this offseason with significant change to his coaching staff.
Among those changes was new Offensive Coordinator Chan Gailey. "Having coached against him in the past, he was always tough to deal with schematically," Flores said. "He's good situationally. I've just heard so many things about him as a teacher. The big thing for me is always teaching, and he's a great teacher."
Flores stated that he was the first to bring Gailey's name up as the new OC of the Dolphins. That invitation was greeted with enthusiasm in the building. "He's back!" coach stated emphatically. "He's enthusiastic and excited for the opportunity. We're excited for him to work with our players."
Gailey's name resurfaced when Flores was asked about his preferred style of running back and the ground game in general. "Running backs come in all different shapes and sizes," Flores said. "It depends on who you've got. We're always going to do what's best for the player. Chan has done a really good job of fitting the scheme to the different players he's had."
Former Dolphins Assistant Head Coach and Wide Receivers Coach Karl Dorrell earned his way into a head coaching job at a Power 5 school at the University of Colorado. "[Karl] was happy here but there was an opportunity that I was very supportive of, and he wanted it," Flores said. "If it's something that [our coaches] want, then I'm going to be supportive of those guys.
Dorrell was one of several minority coaches on the Dolphins staff. Last month, Miami was awarded with the Paul J. Tagliabue Award, honoring industry leaders for diversity. Flores was asked about what that distinction means to him. "I think it's great. There's a lot of great minority candidates throughout the league. I think we have some on our staff. [It's] pretty clear that the Dolphins are supportive of minority candidates. There are a lot of great leaders, great coaches, great teachers who, if given the opportunity, will do a great job."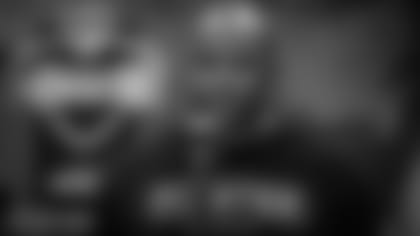 Flores and his staff are in the beginning stages of meeting all the players here in Indianapolis. Regarding the most important thing the Dolphins can take away from this week, Flores stated, "Getting to know them. [There are] a lot of juniors here that we don't really know that well. Finding out how smart they are, the things that are important to them. I want to know about the person. We watch all of the film and have an opinion on how talented the player is. How do they work? How important is it to them? Are they going to make the sacrifices necessary to become the player they want to be?"
Those traits are inherent to player; the 'it' factor. The intangibles are difficult to discern, but these interviews help all 32 teams decide what makes a player tick – especially at quarterback. Flores talked about the traits that define the coveted 'it' factor.
"Do guys rally around him?," Flores said. "It's something you see watching the film. You get to know the player, the people around him, his coaches, his high school coaches, anybody who he's had an effect on, you want to get to know them and have those conversations. It's a feel. As a group, myself, Chris [Grier], we spend a lot of time talking about a lot of different things. If we feel like a player has that, that's something every organization is looking for. Everyone has a different thought process and opinion on that."
The message for the requisite traits at quarterback is the same for every position according to coach. "It's hard to say one thing," Flores said about what he looks for in a quarterback. "We want guys who are tough, smart, competitive, love to play, put the team first. We've watched all the film, we're looking for talented players. There's a lot we're looking for in each player, but tough and smart."
The quarterback everybody wanted to know about is the Alabama product, Tua Tagovailoa. Flores was asked what he needs to see from the southpaw this week. "There's a lot to know about a lot of players, but it's what we just talked about: love of the game, intelligence. But that's for any player. The medical is obviously a part of that. We're very early in the process here. I haven't met him yet. I'm looking forward to meeting him and a lot of players. There's a lot of talented players here."
The Dolphins coaching staff will get a first-hand look at all of the quarterbacks Thursday at 4 PM EST when they work out on the field at Lucas Oil Stadium.