Head Coach Brian Flores calls Allen Hurns one of the most dependable players on the Dolphins roster, and he'll have him back in the lineup this weekend.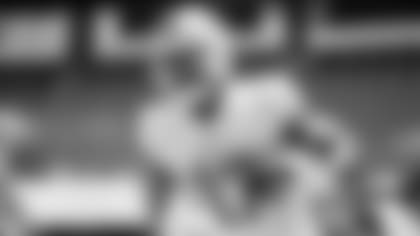 Hurns is set to return to action against the Washington Redskins on Sunday after missing the game against the Los Angeles Chargers because of a concussion. Hurns was removed from the concussion protocol and practiced all week.
"After missing a week, that's the toughest part of an injury, just seeing your team out there competing and you're not out there," Hurns said after practice Friday. "So it feels good just to be back out there with the guys.
"I felt really good (at practice). Just being back out there, I just felt like I was fresh. I guess those two weeks off kind of did good for my body all around, especially with my ankle and things like that. I felt good being back out there."
Hurns was injured in first quarter of the Sept. 22 game at Dallas in his return to AT&T Stadium.
The Dolphins' bye gave Hurns additional time to recover.
"It's good to have him back," Flores said. "He's looked good in practice. He's one of our most dependable players. Catches the ball cleanly, runs good routes, tough, blocks. Really happy to have him back.
"I think he brings a lot to this team from a toughness standpoint, from a dependability standpoint, from a leadership standpoint. This is a man of few words. He's not overly vocal, but his play speaks volumes. He's as tough a guy as we have. I think he's a reliable player and we're happy to have him back."
A month shy of his 28th birthday, Hurns is the oldest member of the Dolphins wide receiver corps. In his sixth NFL season, he's tied with Albert Wilson for the most professional experience.
The former University of Miami standout clearly is a pro, and that is what it means to him to be reliable: "Being reliable, they trust us in all situations. I know where I'm going to be and the same for the quarterback. He has a trust that if he calls a play and it's third down, I'm going to be there and if the ball comes my way, I'm going to come down with it. Being a receiver, your quarterback's got to be able to trust you. If he doesn't, he won't get you the ball. It just shows just the trust that you have in someone."
Hurns has caught three passes in his first three games with the Dolphins after joining the team on the second day of training camp.
He was hoping for a big return in Dallas on Sept. 22, but instead he left AT&T Stadium with an injury for the second consecutive time — he sustained a broken leg in the Cowboys' playoff victory against Seattle last January to conclude his one season with the team.
Ironically, the player involved in the collision that sidelined Hurns at Dallas was his locker room neighbor with the Cowboys, safety Jeff Heath.
"He reached out to me, just saying it wasn't intentional and he was going for the ball," Hurns said. "A lot of those guys checked on me throughout the process. It wasn't just the day of the game; even afterward. It just shows the brotherhood of playing in the NFL and just being on a team that guys really care, and it's beyond football, the relationships that you build when playing this game. It goes beyond. You have brothers that you're going to be cool with besides football."
But now, it's back to football for Hurns and he's hoping to help the offense take several steps forward starting Sunday.
"I feel like with us, we've got a lot of guys that can do a lot of good things," Hurns said. "Me able to play inside and out, I feel like it helps. I feel like this week, we had a really good practice all around, everybody just being on the details, everybody doing their job. That's what it's going to come down to. When you look at the second half of games, we haven't done so well . But it was just us hurting ourselves.
"I feel like this week we'll do a much better job, just the feeling of the atmosphere at practice and how things have been going. It kind of translates over. Once you have a good week of practice, it shows on Sunday."