Preston Williams didn't need much time to attract a lot of attention as a rookie with the Miami Dolphins, so it shouldn't be a surprise he's playing such a big role in his first season in the NFL.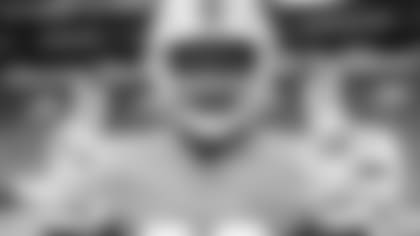 Not only did he earn a spot on the 53-man roster as an undrafted free agent, which is never easy, Williams found himself in the starting lineup when the Dolphins opened the season against the Baltimore Ravens at Hard Rock Stadium.
To illustrate how impressive an accomplishment that was, consider that he became the first rookie free agent wide receiver to start a season opener for the Dolphins. But that wasn't all, Williams ended up catching a touchdown pass in that Baltimore game, doing something that only seven other Dolphins players had done in their first NFL game.
"I didn't know what to expect the first game or how much I was going to play," Williams said. "But the amount I did, I was very surprised. The coach called my number and I just tried to make every opportunity."
Williams didn't stop with that first game, though.
Through the first quarter of the season, Williams led the team in receptions with 15 and was tied with DeVante Parker for most receiving yards with 201.
Clearly, the Dolphins have something with Preston Williams.
There have been a couple of dropped passes here and there, but the long-term potential with this player is impossible not to see.
"He's young, developing, going to be a really good football player," wide receivers coach Karl Dorrell said. "He's playing in a situation where he's playing 60-plus snaps a game, and he's playing like he's been in the league for a while, but he's learning really every snap about different corners, how they play. We're playing against some talented defenses. It's been a learning experience for him each and every week he rolls out there.
"I have to compliment him on how hard he's playing and how he's trying to do everything that I'm asking him to do. Does it happen completely? Not so much, but I think when it's all said and done by the end of this season, we're all going to be really excited about his future. I'm already excited about his future, but I think he's really just tipping a little bit of the potential that really he can be."
When Williams started against Baltimore, he became the first rookie free agent wide receiver to start any game for the Dolphins since 2008 when Davone Bess did it.
The funny part is that Williams said he actually wasn't truly confident about earning a spot on the 53-man roster until the final preseason game. The fact he was among the 31 players who were kept out indeed should have been a telling sign.
Truth is, Williams seemed a lock to make the team from early in training camp, if not back in the offseason program. That's how impressive he was right from the time he joined the Dolphins.
Then again, this shouldn't have been surprising based on Williams' production at Colorado State last season — 96 catches, 1,345 yards, 14 touchdowns.
That was his only season at Colorado State after he redshirted in 2017 after transferring from the University of Tennessee.
Williams had some off-the-field issues in college and that, more than anything, no team selected him in the 2019 NFL draft.
Williams, though, isn't looking back at the draft. Only straight ahead.
"I try not to think about draft day too much," he said. "I had a couple of hiccups in college. I just try to move forward. I just try to create my new future."
Williams was not invited to the scouting combine, though NFL.com gave him a grade of 5.66 and projected him as a player with "a chance to become an NFL starter."
The grade was tied for 15th highest among wide receivers in the 2019 NFL Draft, and a total of 29 players at that position ended up being selected.
Dolphins assistant general manager Marvin Allen explained in May the team's decision to take a chance on Williams as a rookie free agent.
"One of the few five-star recruits that you'll be able to get through the system that came out," Allen said. "He's tremendously talented, a receiver who makes plays, using his length, does a great job of adjusting his body. He's a playmaker."
Williams wasted little time impressing his new teammates after he began practicing with them.
Early in training camp, cornerback Xavien Howard said his saw in Williams the ability to become a No. 1 receiver.
In the first depth chart of the regular season, Williams was not listed as one of three starters at wide receiver because those distinctions went to DeVante Parker, Albert Wilson and Jakeem Grant.
Yet there was Williams on the field on the very first snap for the offense. And then he got his touchdown, the first by a Dolphins rookie free agent in his first NFL game since 1989 when Andre Brown did it against Buffalo.
"My first touchdown catch, it was bittersweet because we were losing," Williams said. "But the fact it was my first (TD) grab, it means a lot to me. I'm always going to remember it, but I want more touchdowns."
Williams ended up catching three passes for 24 yards against Baltimore and, interestingly, the receptions came on consecutive plays late in the second quarter.
Ryan Fitzpatrick engineered an impressive two-minute drive and capped it with completions of 7, 11 and 6 yards to Williams, who after leaving a Baltimore defender on the turf with a quick left-right move, twisted his body and tap-danced in the back of the end zone.
"Kind of was in the air out of control," Williams said. "I knew I needed two feet. Had one in, had to tap the toe. Practiced that play all week and executed it."
That's what it's been all about for Williams since the spring, focusing in practice and then putting to use his obvious physical gifts, which include great size and the ability to make acrobatic catches.
"When we did our evaluation that we had before the draft, we saw this big athletic kid that had some really good versatility for his size," Dorrell said before the regular season opener. "He is almost 6-5. He runs well, he was a punt returner. A guy at 6-5, a punt returner and things like that you saw in college. We were fortunate that after the draft and he wasn't picked, we said, 'Wow, here is a great opportunity to work with a guy that has tremendous potential.' Well, he lived up to that. He is a fun kid to coach — a very bubbly personality, very confident kid.
"I think he has got a long way to go in terms of understanding his complete skill set, but I think he is a guy that will be a really good player in this league in time. He proved that over the course of the spring and got better and better. As he learned our system, had a great preseason camp and you know you saw the first (preseason) game he played really well. I think he has tremendous potential to blossom into a really good player for us, so we are excited about that."
Williams said he'll keep the ball from his first NFL touchdown in his home, though he was disappointed he didn't do more against Baltimore.
As he prepared to face New England, he explained his simple game plan: "Try to have a better game than I had last week. Make some more catches that I should have made."
That's been Williams' position after just about every game.
He has come really close to adding to his touchdown total on a couple of occasions, particularly at Dallas when a Cowboys cornerback dislodged the ball from him as he was going to the ground in the end zone.
But, again, Williams' status on the team was evident in that game because he was targeted 12 times, the highest total for any Dolphins receiver since Week 15 of the 2017 season when both DeVante Parker and Jarvis Landry reached that total in a game at Buffalo.
In Josh Rosen's second start against the Chargers, Williams again had the most targets among Dolphins receivers, this time with seven.
Maybe it shouldn't have been a surprise that Williams became a favorite target considering he and Rosen have a connection that goes back to high school.
"We played in The Opening together," Williams said. "We're familiar with each other just from past events. We're just reuniting back here. It's pretty cool. We've got to get a little bit more chemistry down, a little bit more work together so we can just polish up some things, and get on the same page. I feel like me and him will be real fine, me and Josh. Josh is a great quarterback. He knows what he is doing. He is a talented guy with a great arm."
Williams, for his part, is a talented guy with great size.
And he continues to contribute after joining the Dolphins as an undrafted rookie free agent.
"Undrafted, first round, I never doubted my talent and what I can do," Williams said. "I had a chip, that gave me drive, but at the same time I still felt like I could still compete in the league and be one of the No. 1 receivers one day."