Rookie Preston Williams has been texting with a couple of fellow former Colorado State wide receivers since he joined the Dolphins after the 2019 NFL Draft.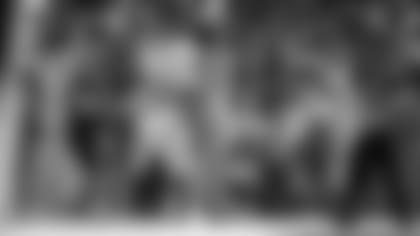 The messages to Williams from Michael Gallup, now with the Dallas Cowboys, and Rashard Higgins of the Cleveland Browns often have been pretty simple: "Keep balling."
Williams has been doing just that since the offseason program and he has no intention of stopping now.
After becoming the first rookie free agent wide receiver to start a season opener for the Dolphins, Williams proceeded to score his first NFL touchdown — making him the first Dolphins rookie free agent to score in his first NFL game since 1989 when Andre Brown did it against Buffalo.
"My first touchdown catch, it was bittersweet because we were losing," Williams said after practice Wednesday. "But the fact it was my first (TD) grab, it means a lot to me. I'm always going to remember it, but I want more touchdowns."
It's been apparent for a while that Williams would play a significant role on offense as a rookie, based on the comments from his teammates and coaches throughout the summer.
Williams, though, said he didn't feel confident about making the 53-man roster until the final preseason game when he was among the large group of starters and significant veterans who were kept out of the game at the Mercedes-Benz Superdome.
Even then, Williams didn't know how much he would end being used in the season opener.
"I didn't know what to expect the first game or how much I was going to play," Williams said. "But the amount I did, I was very surprised. Coach called my number and I just tried to make every opportunity."
Williams ended up catching three passes for 24 yards against Baltimore and, interestingly, the receptions came on consecutive plays late in the second quarter.
"Kind of was in the air out of control," Williams said. "I knew I needed two feet (because) it's not college. Had one in, had to tap the toe. Practiced that play all week and executed it."
That's what it's been all about for Williams since the spring, focusing in practice and then putting to use his obvious physical gifts, which include great size and the ability to make acrobatic catches.
"When we did our evaluation that we had before the draft, we saw this big athletic kid that had some really good versatility for his size," wide receivers coach Karl Dorrell said before the regular season opener. "He is almost 6-5. He runs well, he was a punt returner. A guy at 6-5, a punt returner and things like that you saw in college. We were fortunate that after the draft and he wasn't picked, we said, 'Wow, here is a great opportunity to work with a guy that has tremendous potential.' Well, he lived up to that. He is a fun kid to coach — a very bubbly personality, very confident kid.
"I think he has got a long way to go in terms of understanding his complete skill set, but I think he is a guy that will be a really good player in this league in time. He proved that over the course of the spring and got better and better. As he learned our system, had a great preseason camp and you know you saw the first (preseason) game he played really well. I think he has tremendous potential to blossom into a really good player for us, so we are excited about that."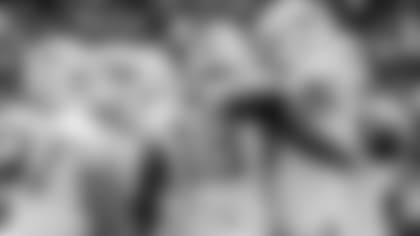 Williams said he'll keep the ball from his first NFL touchdown in his home, though he was disappointed he didn't have two scores against Baltimore.
Earlier in the second quarter, Williams caught a deep pass from Fitzpatrick in the right corner of the end zone but the ball came loose when he fell to the ground between two Baltimore defenders.
It was a play Williams would like to have back, but a lesson learned for the next opportunity.
For now, the plan is simple.
"Try to have a better game than I had last week," Williams said. "Make some more catches that I should have made."