Go ahead and smile. Exhale if you want. Savor this Sunday anyway you'd like. Because for one glorious afternoon, the Miami Dolphins remembered what it was like to win again.
Dolphins 26, Jets 18. Let it sink in. Let it marinate a while. Enjoy it the way these players and coaches did. For on this day, there was no lead relinquished, no ending wrapped in frustration, no thoughts of what might have been.
Instead there was Ryan Fitzpatrick throwing three second-quarter touchdown passes, there was receiver Preston Williams and tight end Mike Gesicki having career days, there was a defense coming up with big stops at crucial moments, holding the Jets to just six second half points, and there was a football team in general feeling part relief, part jubilation and a whole lot of satisfaction.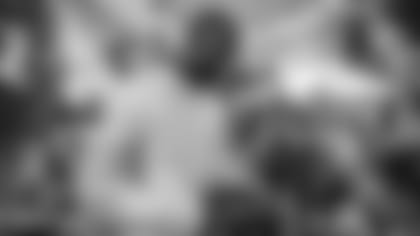 There was also head coach Brian Flores standing at the podium a few minutes after it had all ended, finally wearing that post-game smile he had kept hidden for so long, still a little damp from a Gatorade shower he certainly didn't mind getting.
And thinking about his mom, who passed away from cancer last March and who had been with him every step of his football journey.
"This one's for her," Flores said.
I'm so happy for Flores, getting his first victory, his first game ball. This is a highly-motivated man who has maintained such an even keel during the disappointing times, never wavering from his plan, always pointing to the next opportunity.
I understand he didn't want to wait this long for that first victory and I understand with a game next Sunday in Indianapolis that this celebration will be short-lived. But Flores deserves so much credit for his patience, his work ethic and his belief in these players. I like him. I respect him. And I continue to believe he is the right man to lead this franchise back to where it wants to be. Now, finally, he has the first notch on his belt.
"Felt great," Flores said of both the win and the Gatorade bath. "A fun moment for me, a fun moment for these players."
You could tell by the hugs on the sidelines what his players think of him and the respect he commands. There was no doubt as to who was going to get this game ball. The players made that clear in an emotional locker room scene.
"I can tell you I didn't give it to myself," Flores said.
So many wonderful scenes played out after a victory like this. Players embracing and laughing and waiving at the fans and, well, feeling like a huge burden has been lifted off their shoulders, which it has.
Over there in the bowels of the stadium, there was Fitzpatrick with his arms around two of his sons, taking them to the locker room for the first time this season because he just won't do it after a loss.
"I know we didn't just win the Super Bowl," Fitzpatrick said. "But considering all the things we've been through this season, well, days like today are why I still love playing this game."
Fitzpatrick had his best game of the season as did so many other players, in his case hitting 24 of 36 passes for 288 yards and those three touchdowns. Perhaps most importantly he didn't throw an interception, a major improvement after turnovers had so much to do with the last two losses when the Dolphins had led at halftime.
Then there was Williams, the undrafted rookie who could very well become the future No. 1 receiver on this team, catching two touchdown passes and Gesicki with six catches for 95 yards, including a career-long 34-yarder that set up the third touchdown, and DeVante Parker with the second score of the game on a 17-yard touchdown catch. Together, along with the Fitzpatrick, they helped forge that 21-7 lead late in the second quarter.
No, things didn't go perfectly. There were some shaky moments at the end of the first half when the Dolphins gave up a safety and a field goal in short order, moments that made you wonder whether this was going to be another one of those forgettable days.
But give these players credit. They completed the task. They persevered. They strung together enough positive plays—a fourth quarter safety, a big sack by cornerback Nik Needham, some key first downs by the offense—to keep the lead and the momentum on their side.
And now, finally, they have that elusive first victory. It's been a challenging first half of the season every way you want to frame it. All the new faces. All the roster changes. So many injuries to overcome. But as the weeks have gone by this team has improved. We have seen tangible evidence of that every game.
Sunday was about taking it that final step, about finishing what they started and about enjoying a moment that was long overdue, a moment these coaches and players richly deserved.
"Now we need to move on," Flores said.
And for the first time this season they can do so with a real sense of accomplishment.