The big guys came up big in the passing game for the Dolphins against the New York Jets.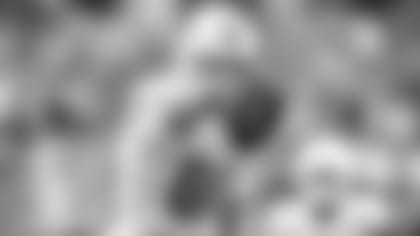 "Those guys on the outside, they're big targets, they're physical guys and they do a nice job," Fitzpatrick said. "They're smart players, so that's just going to continue to get better and better, and then Mike coming along a little bit, he had a nice game today. He made some nice plays. That's the kind of stuff that we expect from him every week and he's just got to continue to put the work in and get better, but we're making improvements and strides and in all areas and those guys are going to continue to put the work in, so hopefully we can continue to improve."
Gesicki led all Dolphins receivers with career highs in receptions (6) and receiving yards (95); Williams had five catches for 72 yards and two touchdowns; and Parker had four receptions for 57 yards and a touchdown, his fourth in the past five games.
Parker's touchdown gave the Dolphins a 14-7 lead in the second quarter that they would never relinquish. It came not too long after he dropped a pass.
"We took it one play at a time," he said. "I had a drop. I didn't think about it. It was over with. Next pass it was the one-handed catch in the end zone. You just move on to the next play. That's what we did."
Williams became the first Dolphins player with two touchdowns in a game this season with the second and third scores of his rookie season.
His day, however, included some pain. He left the game briefly in the second half after sustaining a wrist injury, returned, then left the game for good with a knee injury.
Along with his new career highs in catches and yards, Gesicki also had the longest catch of his career, a 34-yard reception that set up Williams' second touchdown.
His previous longest catch was a 30-yarder against the Washington Redskins on Oct. 13.
Gesicki has 15 catches over the past four games after having six in the first four.
"Honestly, I think it's just all about opportunity," Gesicki said. "I think you need to just keep grinding at it and working at it each and every day and knowing that whenever your opportunity comes, you need to be able to make the most of it. So, ultimately I appreciate the coaching staff and 'Fitz' and all of the guys out there that did their job so that we were able to let me do mine. Ultimately, we got the win and that's kind of the biggest part of this whole thing because at the end of the day, none of that matters if we don't come out here with a win. So we're 1-0 this week and we're moving on.
"I think Coach (Chad) O'Shea, Coach (Brian) Flores, Coach (George) Godsey, they've all done a great job putting everybody in position to be successful. Today on a couple of plays it was me and I think DeVante had a great game, Preston made a couple of big plays. The show kind of runs with Fitz and the O-line and the running backs kind of giving Fitz that time. It's all 11, everybody kind of playing their role and it allows everybody to make their plays."