When Jesse Davis had to leave the game against Dallas on Sunday because of an arm injury, it broke quite a streak for the Dolphins offensive lineman.
It was the first time in Davis' 29 NFL starts that he did not play every single offensive snap. Since replacing Anthony Steen in the starting lineup in the seventh game of the 2017 season, Davis had played every snap in his 28 starts.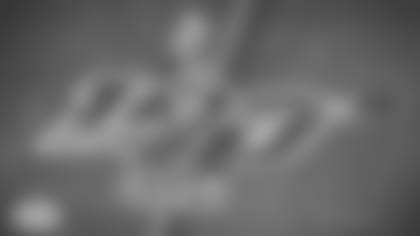 In 2018, he was the only player on the team to play every snap on offense or defense.
Davis is hoping to keep his starting streak alive despite the arm injury. He practiced on a limited basis Wednesday.
Head Coach Brian Flores talked about Davis' durability when he was asked before practice whether Davis would be able to participate.
"He's as tough as they come, so if he can get out there, he will," Flores said. "I know that. He'll try to get out there. That's what you want. That's what you want out of your offensive line and out of leaders on your team, and he's certainly that."
"I'm just trying to learn the playbook right now," Donnal said. "I'm just trying to get the hang of the schemes and be as proficient as I can with the plays and then we'll take it from there."
Donnal came to the Dolphins with 29 NFL games of experience, including six starts. All of those came with the Rams, who made him their fourth-round pick in the 2015 NFL draft.
"I'm excited to be here, excited to put on a helmet and get after it and compete with some new guys," he said.
In case there was any doubt, Flores quickly cleared things up during his pre-practice press conference when he was asked to confirm that Josh Rosen would get the start again at quarterback against the Los Angeles Chargers on Sunday.
"He'll be the starter this week, for sure," Flores said. "You can write that one down."
Flores said he liked the way Rosen handled himself during his first start for the Dolphins, Sunday against the Dallas Cowboys.
"I thought he was good on the sideline," Flores said. "I thought his interactions with his teammates, receivers, line, tight ends, backs were very positive — trying to get guys going. I think he saw, just like a lot of guys saw, there were some plays to be made in that game. Hopefully there is some confidence that we can get open, we can move the ball offensively and there are some plays out there that we could have made and that we did make, and hopefully as we move forward, we continue to improve and do that more consistently."
Wide receiver Andy Jones, who started three games for the Detroit Lions in 2018, was signed to take Ford's spot on the practice squad.
On Tuesday, the Dolphins re-signed Gerald Willis and placed Jamiyus Pittman on the practice squad injury list in a swap of defensive tackles.