He took part in his first game as an NFL head coach, and talked about the experience after the Dolphins' 34-27 victory.
"I had a lot of fun tonight," Flores said. "I was excited, the players were excited. It's a different role for me, but it was fun. I think the main difference is I'm on the entire game — offense, defense, special teams — and really just managing the game and feeling the ebbs and flows of the game and calling timeouts and ripping red flags. It was fun."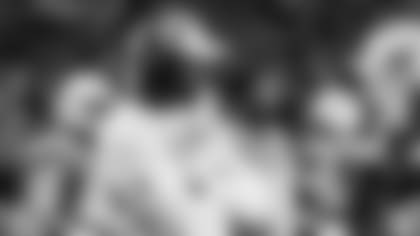 Flores had the opportunity to make his first replay challenge, as he tried to overturn a 28-yard completion near the sideline on Atlanta's first offensive possession. The challenge turned out to be unsuccessful.
As he had indicated a couple of days before the game, Flores went into the game with a basic idea of how he would manage the game while also adjusting on the fly.
"I had a little bit of a plan going in, who I was talking to on the head sets, who I was going to stand next to, where I was going to stand," Flores said. "I had good dialogue with the officials, which I thought that's new, that's brand new for me. All of it is a learning experience. Hopefully I'm better the next time out. Again, just like the players, I ask them to improve and get better, I ask the same of myself."
Flores joined the Dolphins in February after spending 15 seasons as a scout and assistant coach with the New England Patriots.
Rookie defensive tackle Christian Wilkins talked after the victory about his new head coach's first NFL game.
"I think Coach Flores was a little nervous," Wilkins said. "He ain't going to say it, he ain't going to admit to it, but he had the little jitters a little bit. I'm calling him out. You can tell him I said it. But I think he handled it well. He kept his composure. He got us going before the game and during the game and kept us level-headed, business as usual but with a little extra nerves."
Earlier in the week, Flores said he had taken some time to reflect on the journey he went through to go from scouting assistant in 2004 to becoming Dolphins head coach in 2019.
There's been some challenges with which he's had to deal since coming to Miami, but he has prepared himself through the years to be able to handle whatever comes his way.
"That's the job," he said. "That's the job. Look, when you're in a leadership position there's a lot on your plate. It's something that I think I welcome it all, to be honest. I don't run away from any adversity or really any situation. And I don't want our players to run away from anything. I think I need to be an example to them. So, yeah, I reflected on this entire process and I'm having a lot of fun. I am.
"I'm fortunate. I'm humbled to be in this position to lead, to be an example of hard work and try to be consistent and try to do things the right way and at the same time be demanding and tough and try to help these guys become the best version of themselves. I take a lot of pride in that."