As he continues in his new role as nose tackle, Davon Godchaux is looking to become more and more productive with each passing week. But there's extra motivation for the Dolphins' three games in October.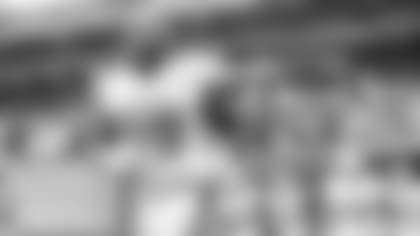 In recognition of Breast Cancer Awareness Month, Godchaux has pledged to donate $100 for every tackle he makes in October, starting with the game against the Washington Redskins on Sunday followed by the games at Buffalo on Oct. 20 and at Pittsburgh on Oct. 28.
The donations will be made in honor of his older sister, who was diagnosed with cervical cancer earlier this year and recently finished her chemotherapy treatments.
"She just beat it," Godchaux said. "Last couple of games I've been averaging five tackles a game, so I'm trying to get 10 this game. But playing within the scheme of the defense. But $100 per tackle. I take it very seriously. My sister having cancer, I saw how down she was, how hurt she was at times. I think it's the best thing to do."
Half the money Godchaux raises will go the Dolphins Cancer Challenge and half to his Chaux Down Foundation.
Godchaux is serious about his commitment to cancer research. On Monday, he joined teammate Raekwon McMillan when the Dolphins hosted the Dolphins Cancer Challenge Dining Experience at SuViche and Novecento, two restaurants in the city of Doral that will donate to the DCC part of their October proceeds from the sale of a cocktail called the Pink O Sour.
Godchaux said he was planning on doing more events with the DCC moving forward.
In the meantime, he will busy trying to get tackles and trying to help the Dolphins win.
Godchaux has 18 tackles in four games this season, at least four in each game. He's got 10 stops in the run game, which ranks fifth in the NFL among interior defensive linemen — the top four tacklers all have played five games.
Godchaux said he's enjoyed his new role at nose tackle.
"I think it's great," he said. "I'm not your typical nose tackle. I'm athletic for a nose tackle, so I like it. I have heavy hands, things that they like in this system. I think it's pretty good how I can use that to my advantage when it comes time to stop the run, use my heavy hands, use my quickness and come time to pass, I really can use my power over most centers."
The move to nose tackle came with the Dolphins' switch to a predominantly 3-4 alignment with Brian Flores taking over as head coach this year.
In his first two seasons with the Dolphins after joining the team as a fifth-round pick in the 2017 NFL draft, Godchaux lined up at defensive tackle in a 4-3 scheme.
"It was an adjustment, but I kind of played it a little bit at LSU," Godchaux said. "We were in a 3-4 my junior year. I didn't put it on film, but I played it at practice. At the end of the day, it wasn't a big adjustment. At the end of the day, it's all about playing football, man on man, winning one-on-ones."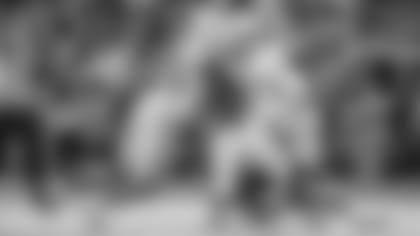 With Godchaux leading the charge up front, the Dolphins are coming off their best performance when it comes to stopping the run.
They held the Los Angeles Chargers to 79 rushing yards on 33 attempts (2.4 average). Godchaux said the key to the success was simply everybody on defense doing their job.
He's also hoping that was the start of a good run against the run for the Dolphins defense.
"I look at it like, to have a great defense, look at the old-school Pittsburgh Steelers defense, you gotta be able to stop the run," Godchaux said. "If you can't stop the run on defense, then you have no great defense. It all starts with stopping the run, then you see guys like Taco (Charlton) say you want to get sacks. Everybody wants to get the sacks, everybody wants to do this, but at the end of the day, you gotta stop the run. If you don't stop the run, you don't have no fun."