The Dolphins game against the Jets on Sunday will come a little more than a week after the 25th anniversary (Nov. 27, 1994) of the "Fake Spike" game between the same teams.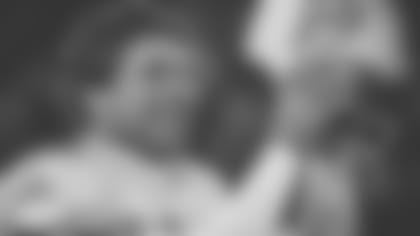 Dolphins fans no doubt remember the play that won the game for the Dolphins, Dan Marino's 8-yard touchdown pass to Mark Ingram after he had gestured as though he was going to spike to kill the clock and then faked doing it before throwing the ball to Ingram.
But there are some elements to the game that bear revisiting, some nuggets that add to the significance of it.
For example, and this also is something most Dolphins fans might know, Ingram's game-winning touchdown catch was his fourth of the game. He tied a team record previously set by Paul Warfield in 1973.
Here are a few more nuggets, perhaps not so well known:
Marino's TD pass to Ingram completed a drive during which he was 7-for-8 for 84 yards.
Ingram caught the last three passes on the drives, with gains of 9 and 11 yards preceding his touchdown.
The touchdown came with 22 seconds left and the Dolphins had to break up a pass in the end zone on the final play to secure the victory. The final snap came from the Dolphins 35 after Boomer Esiason had completed passes of 17 yards and 12 yards following a squib kickoff.
Marino faked the spike to kill the clock even though the Dolphins still had a timeout left and needed only a field goal to tie the score.
On the game-winning touchdown, the Jets were flagged for offside, a penalty the Dolphins obviously declined.
The Dolphins trailed 24-6 in the final minute of the third quarter before Marino threw his second touchdown pass to Ingram, that one from 17 yards out.
The Jets cornerback covering Ingram on the final touchdown was three-time Pro Bowl selection Aaron Glenn, who is now an assistant coach with the New Orleans Saints.
The origin of the fake spike can be traced to backup quarterback Bernie Kosar, as Marino once explained: "I was more involved in trying to get our team into position in hopes of having a chance to tie the game or win the game. I give Bernie Kosar credit. He brought the spike play to us from Cleveland, and he actually mentioned in my ear, 'Think about the clock play, think about the clock play.' It was perfect and we did it."