Dolphins players naturally were thrilled about getting their first victory of the season against the New York Jets on Sunday, but there was another element at play.
Getting Brian Flores' first victory as an NFL head coach was big for the players.
From the Gatorade bath on the field to the water shower in the locker room, to the comments from his players, the respect for Flores was very obvious.
"Yeah, we had to give him a Gatorade bath," defensive tackle Davon Godchaux said. "He's a rookie head coach, so it's his first win and we had to give him a Gatorade bath. It was awesome, man. 'Coach Flo' is a tremendous guy. He works hard every day to put us in the best position to win."
Godchaux was right next to Flores as the head coach addressed his players in the locker room after being presented a game ball by Owner Stephen Ross.
The reaction from his players after the victory didn't get lost on Flores.
"I think they were excited to win," Flores said. "That's what I love about coaching is building relationships and having fun out there. Those moments mean a lot more. I think that was the case today. I wasn't expecting any kind of bath, but that's what happened and it was a fun moment for them, a fun moment for me. It was something I won't ever forget."
While he tried to downplay the victory from a personal standpoint, emphasizing it was the players who did the heavy lifting, Flores admitted the significance of the moment.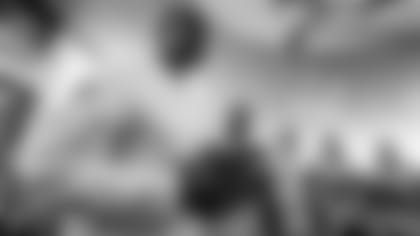 "It feels great," Flores said. "The person I'm thinking about right now is my mom. She passed away in March and she's been my good luck charm for a long time and this is the first season I've had in football without her. So she's the person that came to mind. This one's for her and it was a lot of fun and it was a great moment.
"To represent my family and my parents and my aunts, uncles — really everyone I've been around — coaches, mentors, it means a lot because I didn't get here by accident. I had a lot of help along the way. So my family and my coaches, mentors, it means a lot and I'll keep working because that's what they expect of me and that will never change."
His players have seen since Flores took over as a head coach that he indeed never will stop working.
On Sunday afternoon, they got to enjoy the rewards for all that hard work and got to share in a special moment for their coach.
"Coach Flo, he puts in so much work," linebacker Jerome Baker said. "He does so many things. To finally get his first win, I'm definitely happy for him."