Head Coach Brian Flores addressed the media Monday. Here were some comments that stood out, along with some perspective:
"I think we're moving in the right direction. There's a trust and a belief in the process."
— Flores says it's too early to talk about the Dolphins having established a culture, though he likes what he's seen in terms of that developing. Based on what the Dolphins have shown on the field in recent weeks, it's very obvious the team is doing more and more things right, things that can lead to consistent winning.
"He's embracing the challenge and turned things around quickly, took everything a little bit more seriously."
— Flores talked about the journey of cornerback Nik Needham, one of the stars of the victory against Indianapolis. Needham joined the Dolphins as a rookie free agent and then landed on the practice squad because Flores said he wasn't quite ready to contribute on a regular basis. Needham has consistently progressed since the start of the regular season and had his best game as an NFL player Sunday.
"I see him as the quarterback for the foreseeable future. He's done a really good job. The guys feed off his energy."
— Flores made it clear that Ryan Fitzpatrick will be the starting quarterback moving forward, though he added that things always can change. The Dolphins offense has been playing his best football of the season since Fitzpatrick took over in the fourth quarter of the Washington game, though there are several factors involved in that.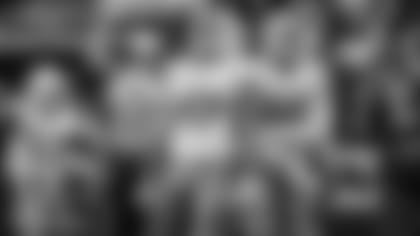 "We've got a lot of guys who, we call it, making a play without making a play."
— Flores talked about several of his players doing positive things against Indianapolis that may not show up on the stat sheet. Among those he mentioned in that area were linebacker Vince Biegel, wide receiver DeVante Parker, cornerback Jomal Wiltz and fullback Chandler Cox.