**Jesse Davis**, who played every snap at right guard last season, took a trip back in time Tuesday when he lined up at right tackle.
It was a position where Davis started two games in 2017 when he became the fifth player in Dolphins history to start games at three different spots on the offensive line in the same season.
"Right now it's just getting comfortable back there," Davis said. "I haven't played tackle in a year and a half. Right now I don't want to be a one-dimensional player. I'd rather be a utility guy like I have been before."
Davis, who started 10 games in 2017 before his 16 starts last season, is just one of many Dolphins players working at multiple positions this spring.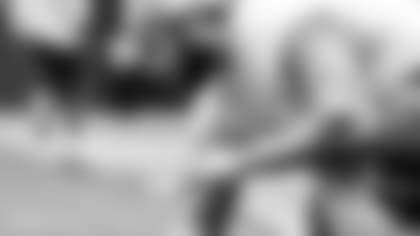 He explained the adjustment in going from guard to tackle.
"Moving to right tackle you've just got a lot more space," Davis said. "You're on more of an island. But you have more time to react rather than at guard. Everything happens faster and you get beat a little quicker. Tackle, you have a little more time to react, but you've just got to cover more ground."
Davis was the only offensive lineman to start all 16 games for the Dolphins last season, as he continued his remarkable rise after first joining the team in 2016 as a practice squad acquisition.
He's clearly come a long way since then.
"Right now I'd say just my hands, especially getting that right guard position, working my hands more and especially working with these coaches, not kicking too far, staying inside out," Davis said as the area where he's made the most progress. "That's a huge thing for me. In the past, they'd say, 'Cover him up.' So I did that, and then you'd get beat inside or something. Right now it's staying inside out, just knowing personnel and knowing the look the pass rusher, just knowing the game now."
Safety **Reshad Jones** took part in his first practice of the offseason Tuesday, and said afterward he was excited to be back.
"I'm excited to be here with my teammates, learning the defense," Jones said. "There are a lot of packages and a lot of stuff I have to catch up to, but I'm excited about it."
Jones explained he stayed away from the voluntary portions of the offseason program, including the OTAs, to get himself ready for a full 16-game season.
Jones said he had kept in contact with Head Coach Brian Flores.
"He kept it real with me, once we were communicating about me not being here and different things like that," Jones said. "I know he comes from a winning program, so I'm excited to be working with him."
Like all defensive players, **Vincent Taylor** is busy this spring trying to learn a new scheme.
But he's intent of getting it down so he can continue the ascent he started last year before being sidelined by a foot injury.
"For sure, but injuries that's what comes with the game," Taylor said. "I'm looking past that and just trying to focus on this year. My feet are feeling good, just trying to get back in the rhythm of everything."
As for the defense, Taylor says he believes Flores and his staff will put the players in the best position to succeed, whatever that entails for him.
"I'm learning every day, just like everybody else," Taylor said. "The coaches, they're going to put us in a position to be successful. We're still getting a glimpse of it. We're trying to get everything down pat. It's new, but I'm learning as we go. It's just up to me to come out here every day and just try to learn and give it my all."
The Dolphins kept working through a downpour that arrived at around the halfway mark of practice Tuesday, and Taylor said he welcomed the challenge.
"When the game is coming and it starts raining, we ain't going to be able to go to the bubble," he said. "So that was good for us, working with the quarterbacks. They were dealing with the wet ball, the center exchange and all that. So it was good for everybody."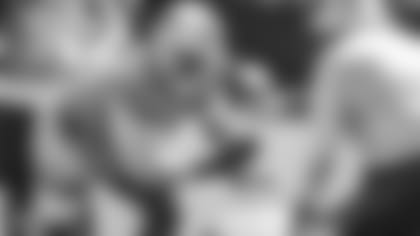 The Dolphins continued their tradition of hosting high school teams at practice, with the visitors Tuesday coming from Pembroke Pines Charter School.
As usual, the visitors got to watch practice and mingle with Dolphins players afterward.
Head Coach Brian Flores confirmed that he will be attending the New England Patriots' Super Bowl ring ceremony Thursday night, and he took advantage of the opportunity to make two important points.
First, he wanted to acknowledge his wife Jennifer, with whom he celebrated his 10-year wedding anniversary last week.
Second, the ceremony will not interfere with the Dolphins minicamp, which will proceed as scheduled through Thursday.
That said, Flores said he was looking forward to celebrating a Super Bowl title for which he played a big role after calling a defense that shut down the Los Angeles Rams in a 13-3 New England victory.
"I built a lot of good relationships up there in New England," Flores said. "My wife is definitely happy to go up there. We actually had our 10-year anniversary last week. I want to give a shout-out to her. Make sure we write that down, guys. I'm excited to go.
"But don't worry we'll be working here Thursday as well. Trust me on that one. If you guys know anything about me, we'll work on Thursday, I'll head up to Boston and celebrate that and I'll be back Friday. But it'll be good to see some old friends. Looking forward to it."