Five snapshots from the Dolphins-Ravens series...
The first meeting between the teams following the Ravens' arrival in the NFL in 1996 came at Baltimore's Memorial Stadium, and second-year running back Karim Abdul-Jabbar was the star for the Dolphins as he rushed for 108 yards and three touchdowns in a 24-13 Miami victory. Abdul-Jabbar scored on touchdown runs of 5, 5 and 6 yards as the Dolphins built a 21-3 halftime lead. Baltimore QB Vinny Testaverde passed for 331 yards on this day, but 156 of those came in the fourth quarter with the Dolphins leading 24-6.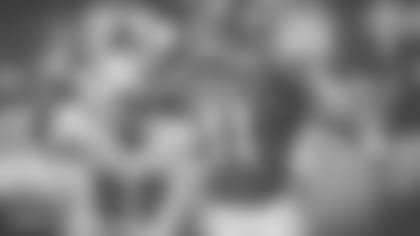 The 2000 Baltimore Ravens went on to win the Super Bowl on the strength of their defense, but on this Sunday night in Miami it was the Dolphins defense that dominated in a 19-6 victory. Jason Taylor had 2.5 of the Dolphins' six sacks and Lamar Smith scored both touchdowns in the victory, but perhaps the biggest memory from that night was the halftime ceremony honoring the brilliant career of Dolphins Hall of Fame quarterback Dan Marino.
This was another defensive battle between the Dolphins and Ravens, with no touchdowns scored in a game that went to overtime. Linebacker Zach Thomas recovered a fumble in overtime to set up Olindo Mare's 43-yard field goal as the Dolphins walked away with a 9-6 victory.
This was the high point of the 2007 season for the Dolphins as Greg Camarillo caught a short pass from Cleo Lemon and raced 64 yards to the end zone in overtime for a 22-16 victory. Camarillo's touchdown came after Baltimore chose to go for a field goal on fourth-and-goal from the 1 in the final minute down by three and after kicker Matt Stover missed a 44-yard field goal in overtime. The overtime touchdown pass put Lemon over the 300-yard passing mark for the game.
The Dolphins' last victory against the Ravens came in Week 13 of the 2015 season when then-rookie DeVante Parker caught a 38-yard touchdown pass from Ryan Tannehill and defensive end Derrick Shelby returned an interception 22 yards for a touchdown to give Miami a 15-0 lead on its way to a 15-13 victory. Defensive end Olivier Vernon also had a big game with 2.5 sacks.