INDIANAPOLIS — One year after the Dolphins selected guard Michael Deiter in the third round of the 2019 NFL draft, his former college teammate Tyler Biadasz is considered among the top interior offensive line prospects.
Biadasz gave kudos to Deiter at the combine Wednesday morning for his mentorship and role in his development.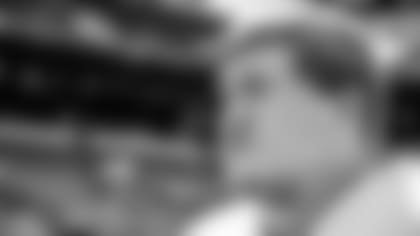 "I picked Michael Deiter's brain pretty good my first two years there," Biadasz said. "He kind of led me my first year. I was asking him all these questions. What do you think about this and that? My goal was to mold my game after him when he played center there. … It was a blessing playing around him and just learning the game. He's a great dude overall."
Deiter played all 16 games with 15 starts for the Dolphins in 2019, while Biadasz closed out his collegiate career by winning the Rimington Trophy as the best center in college football.
Biadasz, who will not work out at the combine after recently undergoing arthroscopic shoulder surgery, stands a good chance of giving Wisconsin an offensive lineman selected in the first three rounds for the seventh time in 10 years.
"The Wisconsin tradition is such a rich tradition, just to approach every day to exceed and to be the No. 1 O-line in the country," Biadasz said. "That was always our goal. I had great guys in front of me and I know they had great guys in front of them too. Year after year, we always find ways to get better and succeed."