But there's more. Much more.
To the large fantasy football community, Laird has become a folk hero with his late-season emergence in the Dolphins offense.
On social media, you can find fantasy football players with Twitter handles or phrases like "Laird Willing," "Praise the Laird," "Our Laird and Savior" or even "Dragon's Laird."
Then there's Joel Burall, who just went out and got himself a tattoo celebrating the rookie from the University of California.
It's on his left thigh and simply says: "Laird Willing" followed by "10-5-1" on a second line.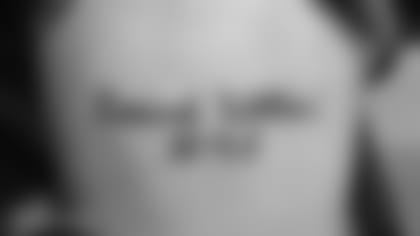 Oh, and now might be the time to point out that Burall's fiancée had unsuccessfully been asking him to get a tattoo with her for about a year.
Joel reports that his fiancée was mad at first, but now seems to have accepted it.
We'll get to the story behind the tattoo after first explaining how Laird has become so popular in the fantasy community.
"I play in a lot of different fantasy leagues and it's hard toward the end of the season … running backs are getting injured and so you're having to go on the waiver wire and find guys for your lineup," Overzet said. "I'm in a pretty competitive, high-stakes league. One of our co-owners really has liked Patrick Laird as a fantasy asset way back since his Cal days and just thought he had a really good profile with the fact that he caught passes. So we started him the week against the Colts where he had six or seven catches.
"From there, we just started kind of talking about him on Twitter and talking him up as what a great fantasy play he could be the rest of the season. There ended up being this whole kind of meta narrative where people couldn't tell if we were joking or not. So we just continued to push Patrick Laird to the point where the hyperbole just got out of control. Matthew Berry is one of the biggest guys in the fantasy industry. He was putting Laird into his lineup. Scott Hanson, who does the Red Zone Channel, mentioned that he was going to have a 'Dragon's Laird' if Laird scored that week."
Overzet then took things a step further when he went to a store and had a Patrick Laird SZN cake made.
"I ended up winning a fantasy matchup that I had Laird in and so I just went on Periscope and just ate the cake with my hands," Overzet explained. "From there, I think Patrick ended up seeing all this stuff going on Twitter and was just like, 'What is going on? Why is this guy eating a cake with my face?' "
This is where Burall comes in.
"I follow Pete on social media and on his podcast because he puts out good information," Burall said. "And I followed him on the Patrick Laird take that week on Draft Kings, although he didn't score that many points, it freed up so much value for my roster, I was able to win a good bit of money. (Then) I had made a meme, it was Pete basically as like a Mormon kid with Patrick Laird on the Bible. The meme got a little bit of attention, so I jokingly put underneath the meme that I made that if it got 100 likes, I would get a Patrick Laird tattoo. It got like 250 likes within 12 hours, so I decided to go through with it."
And the Dolphins running back's reaction to all of this? He thinks it's pretty cool.
"I'm honestly blown away," Overzet said. "Just the fact that he's this blend of just humble and funny and now obviously successful in the NFL, it kind of blows my mind. You know, they always have that phrase, 'Don't meet your heroes,' and then you get on with Patrick Laird and he's taking his computer over during the interview to show us his bookshelf, and we're talking about books with him. And just the fact that he would take the time to talk with us, especially considering that a lot of the stuff I do is comedy and we're doing jokes and stuff. So there could have been apprehension on his part for not wanting to get made fun of. Obviously that wasn't the case at all, but I could have seen him having those reservations.
"So the fact that he rolled with it and had fun with it and now a lot of his recent tweets are making fun of me, making fun of Joel, making fun of people in DFS (Daily Fantasy Sports). We all are just eating it up and he's become a cult hero in the whole fantasy community. It's honestly a great story that everyone is really enjoying."