One of seven running backs on the Dolphins roster, Laird arrived this offseason from the University of California much the same way he landed at the Pac-12 school — as a rookie free agent after initially being a walk-on at Cal.
He's an avid reader who ended up writing a great story for himself in college, and the opening chapter of his professional career is off to a good start.
Through the first two full weeks of the preseason schedule, Laird not only leads the Dolphins in rushing with 75 yards, his 5.8-yard average is tops in the entire NFL among qualifying leaders.
"Laird is a young guy who works hard, who has done everything we've asked," Head Coach Brian Flores said. "He's played well in the kicking game. When he gets his opportunity in the running game, as a receiver, he's taking advantage of them. He just does everything right, and he's had a good camp so far."
Laird led the Dolphins in rushing in both games they have played so far, with 24 yards against the Atlanta Falcons and 51 against the Tampa Bay Buccaneers.
In the process, Laird has put himself in contention for a spot on the 53-man roster, although it's not something he's focused on these days.
"I'm not really worried, I don't think about earning the roster spot thing," Laird said. "Right now, it's just learning the playbook, going out there executing and earning the respect of my teammates. When it comes down to it, hopefully the coaches want to keep me. Right now it's all about just getting better each day and focusing on the things that the coaches want me to do."
This is pretty much the same thing Laird was thinking after arriving at Cal as a walk-on.
Even though it took a while — and a move to wide receiver and back — for Laird to make an impact at Cal, he did just that.
Laird rushed for 1,127 and 961 yards the past two seasons, caught a combined 96 passes, and was named Cal's Most Valuble Offensive Player in 2017.
As a senior, he was one of three finalists for the Burlsworth Trophy, given annually to the best player whose college career began as a walk-on, and was a semifinalist for the Campbell Trophy, which goes to the player who achieves the greatest success athletically, academically and in the community — the award was won by Dolphins first-round pick Christian Wilkins.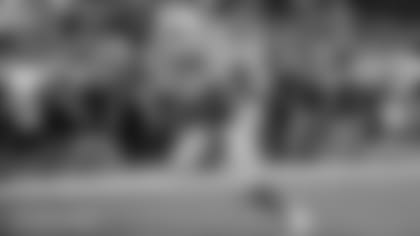 Laird, a two-time captain at Cal, left a legacy at the school with his Summer Reading Challenge, which he started in 2018 and promotes on his website. The website is aptly named: "walkonthenrun.com."
Laird received two bachelor's degrees from Cal in December of 2018 from the prestigious Haas School of Business and in political science. He also found time to do some work as a music producer, and one of his songs, "Small Town," is available on iTunes.
Dolphins Assistant General Manager Marvin Allen made note of Laird's all-around work when team officials provided scouting reports for their rookie free agents in May.
"Patrick is an interesting guy because he's a running back that produced in all phases of the game, as a receiver, as a runner and as a blocker," Allen said. "One of the most interesting things about Patrick is he's a better person off the field than he is as a player, and what I mean is he started a process for underprivileged kids to get books and tutorials out in in California that really took off and got the community behind him and got a lot of underprivileged kids reading out there in the Oakland area, which is tremendous."
Laird is one of three rookie running backs competing for roster spots and roles on offense, along with seventh-round picks Chandler Cox and Myles Gaskin.
"I just wanted to come in like all the other rookies and earn the respect of the coaches, earn the respect of the veterans, learn the playbook as best as I could and just compete on a daily basis like I did in college," Laird said. "I was a walk-on in college, undrafted free agent here. It's not exactly the same … I feel like all the coaches give everyone on this team a fair shot, so just came in like every other rookie and just tried to work as hard as I can but catch up to the veterans and just compete when I got to practice."
Laird has done just that, and done it well enough that he's gotten to get a lot of attention.
"He's earned some more opportunities, which he's gotten, and he's taken advantage of them," Flores said. "He needs to stay on this path and he'll have a chance. Again, it's about consistency. It always is."