The Dolphins have had success through the years signing players from the Canadian Football League, and it sure looks like they've got another keeper in linebacker Sam Eguavoen.
Yes, it's still very early in the process and there's still two weeks left before NFL rosters will be pared down to the 53-player limit, but what we've seen in training camp and in the preseason suggests Eguavoen could find himself with a role for the Dolphins defense in 2019.
While it was a preseason game and Tampa Bay's front-line offensive players — namely quarterback Jameis Winston and wide receiver Mike Evans — played only one series, it was impossible not to notice Eguavoen in the preseason game at Raymond James Stadium on Friday night.
The key for his standout performance was pretty simple, Eguavoen said after the game, and it involved some sound advice from Head Coach Brian Flores.
"Just playing fearless," Eguavoen said. "That's one thing (Flores) pointed out to me on my film. He knows I'm a good player. It's just that I need to unleash the beast. I need to play fearless out there.
"I had my first NFL game ever last week (in the preseason opener against Atlanta), so coming into this week I just write on my walls — just play fearless. It's football. There's 11 people out there, so I have 10 other defenders who have my back, so I'm taking my shots."
Eguavoen has gotten a big-time opportunity this summer because of injuries that have sidelined returning starters Kiko Alonso and Raekwon McMillan, and he's made the most of them.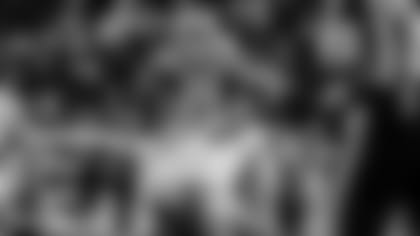 Early in training camp, he was standing out with his pass coverage ability, knocking down passes on a regular basis.
Against Tampa Bay, it was his ability to diagnose plays and quickly meet ball carriers that really stood out.
His first big play came on Tampa Bay's first drive when he set the edge on an outside run by Ronald Jones, fought off a blocker and met Jones before dropping him for a 3-yard loss.
His other tackle for loss came on a first-and-goal from the Dolphins 5-yard line in the second quarter when he met Dare Ogunbowale in the backfield and dropped him for a 1-yard loss, a play that helped forced Tampa Bay to settle for a field goal.
In between, there was the forced fumble, which came when he met running back Andre Ellington right after he caught a pass on third-and-3. Dolphins cornerback Eric Rowe was able to pounce on the loose ball for the turnover.
"I forgot what down and distance it was," Eguavoen said. "I know we needed to get off the field. I didn't know I was going to get a forced fumble. I just had a clean shot on the running back coming into the flat, wrapped him up and he was carrying the ball poorly, so it came out and Rowe was their to scoop it up."
Eguavoen, who signed with the Dolphins in January, showed his playmaking ability last year when he played his third season with the Saskatchewan Roughriders.
In 18 starts — the CFL season is two games longer than the NFL's — he had one interception, two forced fumbles, one fumble recovery and two defensive touchdowns.
It wasn't just the Dolphins who saw his obvious potential, as about a half-dozen teams reached out to Eguavoen.
After choosing the Dolphins, he's now hoping to follow in the footsteps of guys like Cameron Wake, Mark Dixon and Brendon Ayanbadejo, who all became significant contributors after coming to Miami from the CFL.
Whether he'll ultimately succeed remains to be determined, but he's off to a good start.