Ryan Fitzpatrick described his first season with the Dolphins as a roller coaster, and it's on the upswing again.
Some three hours after Head Coach Brian Flores told the media that Fitzpatrick would be back as the starting quarterback against the Buffalo Bills on Sunday, the 15-year veteran explained what it meant to him.
"I'm excited," he said. "I told you guys earlier, I just enjoy playing football. I like being out there. It's a lot more fun for me, whether it's throughout the week or on Sunday in the game, to be out there and be playing. Preparation, it's a lot more fun when you're the guy. It'll be a lot happier day today knowing that I'll be out there and (I'll) just try to go out there and be myself."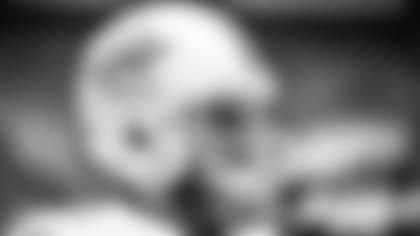 Fitzpatrick came off the bench early in the fourth quarter against Washington and going 12-for-18 for 132 yards with one touchdown and no interceptions, good for a passer rating of 106.7, while almost bringing the Dolphins back from a 17-3 deficit.
It was the 10th time in Fitzpatrick's career he had thrown for more than 130 yards in the fourth quarter.
Playing off one of his nicknames, Fitzpatrick was asked how much "FitzMagic" was left.
"It's not something that I could just go out there and force and try to hit a home run on every play," he said. "Historically, there's been times in my career, whatever teams it's been on, we've gotten on a little bit of a roll and that momentum, it's a fun feeling. It's a fun rhythm to get into and hopefully we can see a lot more of that and there's a lot more of that to come."
Making the news even sweeter for Fitzpatrick is the opponent Sunday.
The Dolphins are his eighth NFL team, but it's with Buffalo that he spent the most seasons (4), made the most starts (53) and threw for the most yards (11,654).
"It's an awesome place to play, whether you're there as a player with the support of the fans or going there as an opponent, a hostile environment," said Fitzpatrick, who played for the Bills from 2009-12. "You walk in there and there's not a whole lot of jerseys for your team. It's all Buffalo jerseys. There'll be some 14's, but they're probably Sammy Watkins, not Fitzpatrick. Whoever it is now. I have a lot of good friends from there, a lot of good memories.
"It is fun to go and play in a game like this that is going to be in a great environment. This one is unique in that you have all these new stadiums that are enormous, it's almost like the game is secondary to some of the other stuff going on. In Buffalo, it is all about the game. The fans are so into it — after the tailgating, of course — as an opponent you enjoy going in there and getting that feeling as well."
Of course, the bad part about facing the Bills is having to go against one of the top defenses in the NFL.
Buffalo is ranked third in fewest yards allowed per game and per play, fewest passing yards allowed per game and per play, and fewest first downs allowed per game.
"They're a great defense," Fitzpatrick said. "Again, tough environment like we said. Very aggressive. Everybody seems to know their role. It'll be a tough challenge for us, but each week we try to really focus on ourselves and getting ourselves better and in tune with the details and on the same page with communication."
Fitzpatrick beat out Josh Rosen for the starting job at the start of the regular season, and opened the games against the Baltimore Ravens and New England Patriots, though Rosen came into the game both times.
Rosen then started the next three games — against Dallas, the Los Angeles Chargers and Washington.
Fitzpatrick said he didn't have any expectations about regaining the starting job after the Washington game.
"Whatever Coach Flores was going to do, I was going to try to do my best job at it," Fitzpatrick said. "I'm glad he made the decision he did."