As he talked Thursday about his first NFL start, Dolphins rookie guard Shaq Calhoun allowed himself to drift back in time and relive the journey that brought him to this point.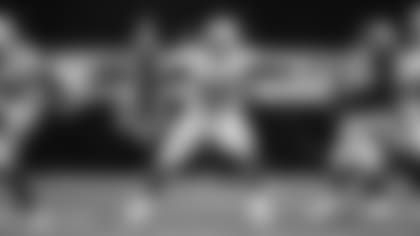 "Undrafted free agent, I played I-A football growing up in high school," Calhoun began. "I started off playing eight-man football. Started playing 11-man football in the eighth grade and I was playing small football. We would have to travel long distances just to play and just coming from where I come from to where I am, I'm proud of myself."
Calhoun has every reason to be proud of himself.
His start against the Buffalo Bills on Sunday was the first by a Dolphins rookie free agent offensive lineman since 2013 when Sam Brenner started four games at left guard.
Calhoun, who missed some time in the second half because of a reported illness, got the start when Evan Boehm slid over to center to replace Daniel Kilgore, who was inactive because of a knee injury.
"As we got through about two plays, I eased on out there and after that first series, I was good," Calhoun said. "It was actually fun. It was very fun to play on Sunday, way different than practice.
"It's faster, but it's easier in certain aspects of it. Practicing, it's way harder than the game. The game is easy. Because practice is so hard. That's why I love it. Coach Flo (Brian Flores) makes the practice challenging, so on Sundays it's an easier flow."
Calhoun actually started all four games of the preseason, but found himself inactive for the regular season opener and didn't play in the Week 2 game against the New England Patriots before making his NFL debut in Week 3 at Dallas.
After the Week 4 game against the Los Angeles Chargers, Calhoun took advantage of the bye to go home to Mississippi to see family and friends he hadn't seen since reporting for training camp in mid-July.
The trip coincided with his daughter, Ivy, turning 3 years old.
"That Wednesday I got to Birmingham around 10:30," Calhoun said. "When I got off the plane, something just felt different. I was happy as hell to be home. I was excited because I haven't seen my people since like July 20. I was very happy."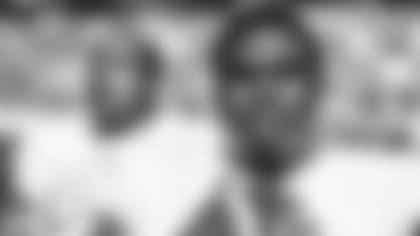 It was late during the Dolphins' first game after their bye when Kilgore sustained the knee injury at would keep him out against Buffalo.
Calhoun admitted to having to battle some nerves when he found out he'd be getting the start against the Bills between Boehm and right tackle Jesse Davis.
"Starting off in the week I was anxious, very anxious, just letting the nerves get to me," he said. "I was thinking about what all bad could happen, this and that. But as the week went on, I got more confident as we practiced the plays and I was playing by Jesse. Jesse is a big help to me. So playing by him eased my mind a little bit on the field because if I have a question about something he can answer it like that.
"I think I did solid. I have to work on some things, but I did think solid. Definitely could have done better, but it was OK. We're going to keep building."
With Kilgore missing his fourth consecutive practice Wednesday, there's certainly a possibility that Calhoun could be in line for a second consecutive start, which naturally is an appealing possibility.
"Very excited," he said. "To watch Monday Night Football growing up all my life and now to have the chance to actually play it and be on TV, that's exciting. Very exciting. Especially when I come from."