The Dolphins have three starters back from the offensive line that took the field in the 2018 season opener, but there will be competition just about everywhere in that group this summer.
Perhaps the one exception is at left tackle, where 2016 first-round pick **Laremy Tunsil** is getting ready for this fourth NFL season.
"We have competition at every position, even at the center position," Flaherty said after practice Sunday. "The one guy that's probably getting the most reps is maybe Tunsil. Everybody else, we're going to find it's open competition.
"The question really from your standpoint is when you're going to make a decision. I can't answer that right now. It's going to be when we feel solid, when (Head) Coach (Brian) Flores feels solid, and (Offensive Coordinator Chad) O'Shea, that we have the right five in there."
Flaherty said he remains high on the potential of third-round pick **Michael Deiter**, but he cautioned again expecting too much too soon out of the interior offensive lineman from Wisconsin.
"Here's the thing about young guys when they transition to the NFL," Flaherty said. "He played in the Big Ten (Conference), a good league. But he's going to be playing against better players. H was well coached in college, but his technique has to change a little bit because he's going against better players. Some of the things you're able to execute in college won't get the job done here. That's the transition and learning phase he's going to have to learn."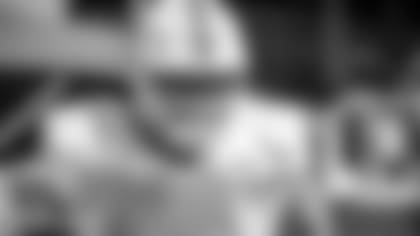 Flaherty said that even though Deiter has the ability to play both guard and center, the strategy has been to keep him at guard for the time being to help his development.
"You see flashes," Flaherty said. "That's why we drafted him, but he is a long ways away. He's a long ways away of being where Michael is going to be a good NFL player. That's not saying that through the next couple of weeks he cannot gain some ground. That's what we expect him to do. Then we'll see where's he at when it comes to Week 1. I'll say this, the guys I have in that room are hard workers. I think they are tough, physical guys. When you have that type of mentality, you have a good opportunity to get better and possibly win the job."
Offensive coordinator Chad O'Shea said he has not decided yet whether he will be calling plays this season from the press box or the sidelines.
"We have some time before the first game and we'll see what works best for us," O'Shea said. "We don't have anything set in stone right now."
O'Shea indicated he was on the sideline during his time as assistant quarterbacks coach with the New England Patriots.
"I think it's different for the role you're in," O'Shea said of the different vantage points, "so we'll see kind of what works best for our staff."
It's something he did on occasion during his four years at Clemson University.
"As Coach Flo (Brian Flores) has told the team, the more you can do, the better," O'Shea said. "And if a defensive player can help the offense, and if an offensive player can help the defense, he's going to do so. It's great to have Christian. We've worked with him on the offense today, but all players will have the opportunity to create their role based on what they can do. And the more you can do here, they more you're going to help the team."
The one bad thing for Wilkins on this day is that he had to jog to the TNT (Takes No Talent) wall along with the offense once while also doing it twice when the defense did the jog designed as punishment for a mental mistake.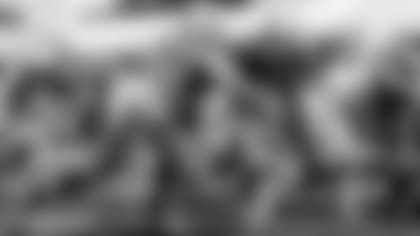 The Dolphins had visitors again at practice Sunday, this team members of Coral Springs High School.
As will be the case with every team invited this summer, the players and coaches received a tour of the Baptist Health Training Facility at Nova Southeastern University, listened to a character development talk, watched practice and met with current coaches and players on the field, and had lunch.
Also attending practice as guests were members of the FOOTBALL UNITES™ partner S.O.S. Children's Group.