The emergence of former Canadian Football League linebacker **Sam Eguavoen** has been one of the storylines in the early part of Training Camp, and his position coach explained Thursday where Eguavoen has done particularly well.
Eguavoen has earned more than his share of practice reps with the first-team defense, and linebackers coach Rob Leonard says he's earned those reps.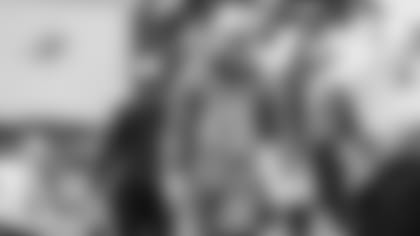 "We're going to put the 11 best on the field, and right now Sam is playing at a high level, so he's getting more reps," Leonard said. "That's just the way I look at it. When I do the script in the morning to go out to practice, it's not first team, second team, third team. 'Who's earned the reps from yesterday? This is where I'm going to put them.' He can play these spots. He's shown me he has that skill set, so I'm going to put him in the position to do those things. When I say I honestly script practice, I don't even think, all right, he's first team or second team."
Eguavoen, who spent the past three seasons with the Saskatchewan Roughriders after going undrafted out of Texas Tech, had another solid performance at practice Thursday.
"He's been physical, communicated," Leonard said. "All the pre-snap stuff, it starts there. He's getting lined (up), he's taking control, which is what I want to see first, and then once we put the pads on, he's actually playing downhill, playing with his hands, using the fundamentals that we've talked about from all of spring. Transitioning from the spring to putting pads on, that's been key and why he's had more opportunity."
Another defensive player who appears to be having a strong start in training camp is lineman **Vincent Taylor**.
The third-year player from Oklahoma State has made at least one noticeable play just about every practice so far.
"Vincent is doing good," defensive line coach Marion Hobby said. "He's learning a different technique. I think he's trying to buy in. We're asking him to change things he's done in the past. The biggest thing with Vince is just continue to work, continue to work. He's done some really good stuff. I like his natural strength. He's better when you say live than he is just in a drill. When you say 'live,' Vincent Taylor shows up."
Hobby explained the differences in what Taylor is being asked to do this year.
"It's just more or less his stance, just get him on his stance," Hobby said. "Sometimes on this level, when you're asked to change that stance, that's when it gets a little tough because something got him here. It's just a little bit different because we fitted the line of scrimmage a little more where Vince has been — his whole life has been a penetrator, hitting gaps. Now we're asking him to play through offensive linemen and knock people back."
The Dolphins' defensive coaches met with reporters after practice Thursday, and defensive coordinator Patrick Graham provided one of the highlights when he was asked about his coaching style.
"I'm just transparent and honest with the guys," he said. "I'm loud because I'm fat and big, so that's part of the reason why I'm loud. (laughter) And I had two brothers growing up, so you had to be loud. And I was a middle child, so take all the middle-child syndrome, I'm fat, I'm big, yeah I'm loud. (laughter) I'm loud but I'm just transparent with the guys."
Graham, a former defensive lineman at Yale, later was asked whether he thought first-round pick Christian Wilkins had slimmed down since the spring.
"I wish I could tell you," Graham said. "I'm still bigger than him. That's a good thing. (laughter) As long as he doesn't get this heavy, he'll be fine."
Special teams coordinator Danny Crossman explained the decision to waive rookie punter Stone Wilson this week, saying it had more to do with incumbent **Matt Haack**.
"Stone did a nice job," Crossman said. "Matt is doing an outstanding job. It's just an opportunity of getting Matt more of the work."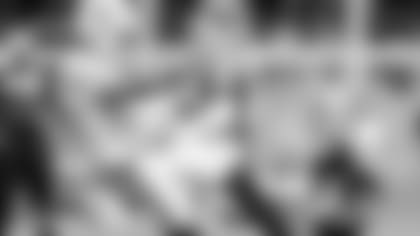 The Dolphins are not planning on bringing in another punter to challenge Haack. There's also only one kicker on the roster, incumbent Jason Sanders, who was 3-for-3 on field goal attempts of 53 yards in practice Thursday.
Back to Haack, Crossman said the one area of improvement this season will be consistency throughout the field.
"We need to be good backed up; we need to be good in the middle of the field; we need to be good at pinning people," Crossman said. " (He was) off to a good start last year. (He's) off to a good offseason in the spring (and has been) better here in fall camp, so hopefully his arrow just continues to keep going up and improving in all of those areas."
The Dolphins had visitors again at practice Thursday, this team members of Miami Southwest High School.
As will be the case with every team invited this summer, the players and coaches received a tour of the Baptist Health Training Facility at Nova Southeastern University, listened to a character development talk, watched practice and met with current coaches and players on the field, and had lunch.