Defensive end **Charles Harris** is a little bigger as he takes part in his third training camp with the Dolphins and a whole lot more confident.
After being limited in practice in the offseason because of a wrist injury, Harris has been full go since the start of training camp and gotten his share of opportunities to work with the first-team defense.
His enthusiasm was obvious as he spoke with reporters after practice Wednesday and said there was a reason he's got a smile on his face.
"Back out here," Harris said. "Back out here playing. That's the greatest thing about it."
Asked whether he felt more confident than last year, Harris replied: "I can't remember last year. I'm on a high right now getting ready for this scrimmage (Saturday). Taking every day one day at a time, but looking forward to the scrimmage."
With 2018 starters Cameron Wake and Robert Quinn no longer on the team, Harris has a great opportunity to earn a starting job in his third NFL season and he didn't hesitate to say that was an important goal for him.
As he did during the offseason program, Head Coach Brian Flores was quick to mention Harris when he was asked about the progress of his edge defenders.
"I'll start with Charles Harris," Flores said. "I think he's really working hard, really working at the techniques on the edge, in the run game and in the pass game, so he's doing a good job."
Flores spoke Tuesday about how much he likes the upside of Brazilian prospect **Durval Queiroz Neto** based on his strength and his athletic ability, while also pointing out he remains a developmental player.
On Wednesday, Neto switched his aqua jersey number 69 for a white jersey and worked with the offensive line. He had worked at defensive tackle since joining the Dolphins in April as part of the NFL's International Player Pathway Program.
This is what Flores said about Neto on Tuesday: "This is a hard-working young man. I think when he got here in the offseason, all of this was brand new to him. From conditioning, from a technique standpoint, from a fundamental standpoint, from just an overall learning of football, he's come a long way in these four or five months. I like the kid a lot. He's strong. He's as strong as anyone we have on the team. There's definitely an opportunity for him to develop and he's taken advantage of that. He's getting limited reps. He's still learning the game, I would say. I like what I've seen from him and hopefully we get him into preseason games and see what he can do."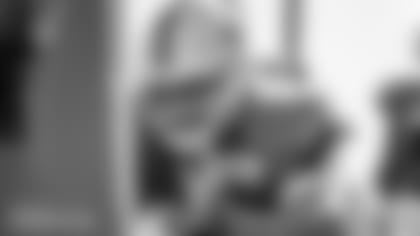 Moore played the three (1974-76) of his 14 seasons with Buoniconti as his teammate with the Dolphins and said his fondest memory of the great linebacker was just how smart Buoniconti was.
"He would stand behind the offense on days that he wasn't practicing and by just looking at the offensive line, looking at the backs, (he) could tell you what play we were running already," Moore said. "It showed you why he was such a great player. He was a very smallish linebacker, but extremely smart and he always got to the hole before the guard or the tackle could get to him and he could blow up a play. It was all because he was such a great student of the game and an extremely smart player."
Wide receiver **Albert Wilson** continues to practice on a limited basis, taking part in individual drills and then doing conditioning work on the side, but Head Coach Brian Flores said it's all part of a plan that is proceeding just as it was designed.
Wilson has not taken part in a full practice since sustaining a hip injury against the Detroit Lions at Hard Rock Stadium last October, but Flores said that time is coming.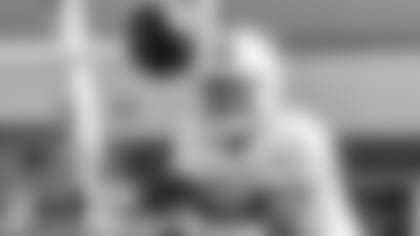 "Albert is really working on a daily (basis)," Flores said. "You see him in some individual (drills), you see him out there a little bit in practice. He goes in and he's working; we're working him. We're working him, that's for sure. He's doing a good job. From that standpoint, from a conditioning standpoint, he's got to get back up to speed and hopefully we'll see him sooner than later.
"He's definitely working towards that and that's something that we've talked about as a staff and (with) our medical team. We have a plan in place for him. We're not going to stray from that plan. He's working hard to get back on the field."
There are certain coaches around the NFL who believe in the concept of giving certain players — usually veterans — days off, but it does not appear that's something that Flores endorses.
He made it pretty clear Wednesday when asked whether he was planning on giving any players periodic days off.
"Days off?" Flores said. "They just had a day off the other day. (laughter) That doesn't count? I'll give you guys (in the media) days off. (laughter)"
Flores also explained his philosophy when it comes to practicing hard in the heat, including have players run gassers after practice and refraining (so far) from using the practice bubble.
"That's something I've spent a lot of time thinking about, a lot of time talking to different coaches, trainers, medical staff about what's the best way for us," Flores said. "We have a plan in place, but part of that plan is practicing in this weather. I think it's something that we've got to get acclimated to. I think it's an advantage for us. I think it's a disadvantage for teams that come here. At the end of games, if we can go in this weather and they can't, I think everybody will be happy."
The Dolphins had visitors again at practice Wednesday, this team members of Northeast High School from Oakland Park in Broward County.
As will be the case with every team invited this summer, the players and coaches received a tour of the Baptist Health Training Facility at Nova Southeastern University, listened to a character development talk, watched practice and met with current coaches and players on the field, and had lunch.
The Dolphins also welcomed the Delray Rocks and the Miramar Wolverines of the American Youth Football League, and the teams scrimmaged at the Baptist Health Training Facility at Nova Southeastern University after practice.