**Nate Orchard** became a second-round draft pick after recording 18.5 sacks in his final season at the University of Utah, and he firmly believes he still can become an impact pass rusher in the NFL.
The five-year NFL veteran now is hoping he'll get the chance to become that player with the Dolphins.
"I can rush the passer," Orchard said after the OTA practice Tuesday. "I just need an opportunity and I think it's here with the Dolphins. I'm grateful for it."
The Dolphins signed Orchard as a free agent less than a week after he had been released by the Seattle Seahawks, who let him go after signing former Detroit Lions first-round pick Ezekiel Ansah.
The Dolphins are Orchard's fifth team since the start of the 2018 training camp, along with Cleveland, Buffalo and Kansas City.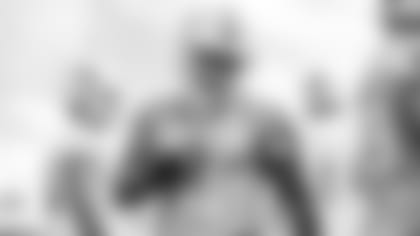 "It's the nature of the business," Orchard said. "The NFL, it's a tough league and everywhere I've been it's a business decision. But at the end of the day, the ego is great. My confidence is still sky high. I've got a great support system, my wife and kids and family. They keep me going. And at the end of the day you gotta be confident in what you do and don't ever let anybody drag you down."
Orchard spent his first three NFL seasons with Cleveland after being the 51st overall pick in the 2015 NFL draft.
In Cleveland, Orchard had five sacks in 34 games, including three when he started 11 games as a 3-4 outside linebacker as a rookie in 2015. Orchard also lined up at defensive end in a 4-3 for the Browns.
Orchard says he has learned a lot during his time in the NFL and is grateful for every opportunity he has had.
He also said there was a very simple reason he was able to get those 18.5 sacks for Utah in the 2014 college football season.
"Go out and rush, baby," he said. "Like I said, opportunity, being able to be out on the field, to get a rhythm for the game, get my flow and continue to rush."
Wide receiver **Jakeem Grant** has been participating in OTAs on a limited basis, but that still represents a big step from him in his comeback from a foot injury that cost him the final six games of the 2018 season.
"I get great reps in," Grant said. "I take a few reps every period. But just limited. Just being smart. Not trying to overdo it and not trying to go out there and have a setback. Just going out here and being smart because we don't have a game in two weeks."
Grant set career highs last year in catches (21) and receptions (268) and became the first player in Dolphins history with a punt return and a kickoff return for a touchdown in the same season.
He's eager to pick up where he left off, which is why it's so significant he's able to take part in the OTAs.
"It's very big," he said. "Just with them just allowing me to go out there and just do a couple of plays a series just to get some trust in with the quarterbacks and with the receivers and with the new coaches and just to show them that I'm still working up to be that guy for you guys so you can trust and also just being smart at the same time.
"I tell you, I hate watching. I hate watching. It's like I always ask the trainers and the coaching staff, 'Let's do more, let's do more.' And in the back of my mind, I'm like, I have to be smart as well. But I'm hungry. I didn't get to finish the season. I felt like I was having a good season and so I'm just hungry now and I'm itching to get back with the guys and get back going full go."
Cornerback **Jomal Wiltz** is trying to make an impression after signing as a free agent in the offseason, and he had himself a very productive practice Tuesday.
Along with batting away a few passes, Wiltz had an interception in the end zone in a drill after jumping the route.
"I would say it's a good day," he said. "Better than yesterday. That's the main thing they stress in the building, is we get better the next day. I would say it was a better day today."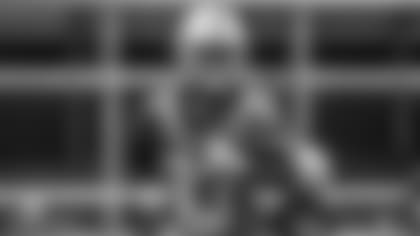 Wiltz joined the Dolphins after spending the past two seasons as a member of the New England Patriots practice squad.
While he's never appeared on a 53-man roster, Wiltz has the advantage of having previously worked with Head Coach Brian Flores. That means he's very familiar with the defensive system that's being implemented.
"It's just helped me a lot," he said. "Also, it gave me a role to help out other guys that are not familiar with it. That's always a plus, to have other guys in the room that are familiar with it so he can get his teammates on the same page because that's all we're trying to work on is everybody on the same page."
The Dolphins continued their tradition of hosting high school teams at practice, with the visitors Tuesday coming from Hialeah High School in Miami-Dade County.
As usual, the visitors got to watch practice and mingle with Dolphins players afterward.
One lucky player got a major bonus Tuesday, as Pro Bowl cornerback **Xavien Howard** took off his cleats, autographed them and handed them to the player.
Players and coaches from Everglades High School watched practice Monday, and they'll be followed by Boyd Anderson on Thursday, St. Andrews School next Tuesday, and Western High on May 29.
Fans of the annual HBO training camp series "Hard Knocks" probably remember Orchard from the 2018 edition.
Orchard was among the players featured on the show, with cameras taking viewers into his home, where his wife's cookies became famous.
The topic of "Hard Knocks" and fans approaching him about the show came up when Orchard spoke to the media Tuesday.
"They've approached me about the cookies," he said. "They've approached me about me, but they said, 'Hey, we've seen your wife and we've heard about her cookies.' So people are asking, so I might have to bring the cookies to Miami."