Walt Aikens has proven himself on special teams since he joined the Dolphins in 2014. Now, he's hoping to make his mark on defense.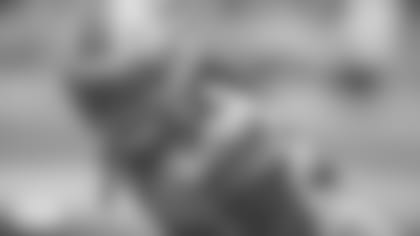 It's a possibility that excites Aikens.
"Gotta step up and make plays," he said. "Happy to go in there when my number is called, when my name is called and do what I need to do. Show the coaches I can fit in this system. I really like the system, like what the coaches have got going on. Just out here doing my job."
Defensive coordinator Patrick Graham said that what makes Aikens such a good special teams player also can help him on defense.
"It starts off with the fact that (he is a) captain (and a) leader on this team," Graham said. "He's a physical presence on the field whether it's defense or special teams. (He has) good speed. (He is a) good communicator. Again, whatever role it's going to be, it'll be, but he does such a good job with every role we've given him. We're just looking to see his role grow as the season continues."
Though he played only four snaps on defense against the New England Patriots, Aikens got a good amount of action on defense in the season opener against the Baltimore Ravens and made the most of it.
In 18 snaps, Aikens was in on six tackles, with three initial hits and three assists.
The 18 snaps represented the highest total for Aikens since 2015, his second season in the NFL. It was during that season that Aikens made five of his six career starts on defense (the other came in 2018).
After playing mostly special teams the past three seasons, Aikens is grateful for any opportunity on defense.
"Good," he said. "Get to show my coaches that I can go out there and ball out and do what they need me to do when they need me to do it. It's definitely a confidence booster."
Aikens will go into the game at Dallas on Sunday with one career interception, which came during a 38-14 victory against the Oakland Raiders in London during his rookie season of 2014.
While he would love nothing more than adding to that total, Aikens knows the key on defense is to be sound fundamentally.
"Consistency," he also mentioned as a key. "Just go out there and make sure I know what I gotta do, make sure I'm executing and all the pieces will fall into place.
"We've got a lot of moving pieces and our coaches are trying to make sure we're all in the right place to be an effective defense."
Along with his duties on defense, Aikens no doubt will continue being a mainstay on special teams.
It has been his calling card since he arrived and he's earned enough respect in that role that he's been the Dolphins' special teams captain the past two seasons.
Even as he gets more involved on defense, Aikens is not about to let up one bit when it comes to his special teams focus.
"I'm still doing what I need to do on special teams as well," he said. "It might just mean stacking bricks in layers, having more jobs, more opportunities. Gotta find a way to do them all.
"I'm just doing what my coaches ask me to do and getting ready for Dallas."