You're not going to solve all of your problems or fill all of your needs in one draft. 
But you can make some serious inroads, you can add important pieces to the young nucleus of a team and you can establish an identity that might just help re-define who you are.
This draft could have very well accomplished all of those things for the Miami Dolphins.
As I look back on those three days, as I evaluate the selections and the trades and the most important decisions, I keep coming back to General Manager Chris Grier and how there seemed to be a clear plan behind each of the moves that he made. This had little to do with luck and more to do with preparation. Grier needed to be on his game and he certainly was.
The Dolphins are getting Rosen on a very team friendly contract. The large signing bonus that comes with being the No. 10 overall pick was paid for last season by Arizona. This is another area where Grier deserves credit. Granted, they gave up a late second round pick and a fifth rounder next year to get Rosen. But when you weigh the upside, taking into account the importance of the position and that palatable contact, it all points to a very prudent move.
There is almost a calming feeling, a sense of comfort of sorts, with Grier now running the entire football operation, a feeling that was only accentuated over this three-day draft.
No doubt you can't judge true success in a draft until the pieces start coming together, until we see how many of these players contribute right away and the level in which they perform.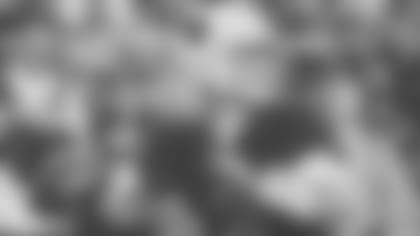 But a first impression? **The group looks solid.** The Dolphins addressed a lot of needs, selecting a defensive lineman, two offensive linemen, a linebacker, two running backs and, of course, trading for Rosen. There is a chance all of them can contribute in some form right away, which was exactly the objective. Did he address everything? That's going to take time.
Meanwhile, the Dolphins also set themselves up nicely for the 2020 draft, creating more assets and clearly underlining the importance of looking ahead instead of just focusing on the here and now. When you factor in possible supplemental picks, the Dolphins could have as many as a dozen selections in that 2020 draft. That's impressive.
But that's also a year away. Today is about this infusion of talent and what these seven players could mean to the overall picture of this franchise. Let's break it down further:
Defensive lineman Christian Wilkins
I honestly can't think of the last time I was more **impressed with the opening act of a first-round pick**. His charisma. His intelligence. His mindset. His deep inner belief that there is little he can't accomplish. If Wilkins the player is as good as Wilkins the person – and all reports suggest he is – then the Dolphins have a stud on the defensive line for years to come.
You've got to count him as a second round pick because that's what he basically was for the Dolphins. His talent is unquestionable. The challenge for Rosen is taking that talent and successfully combining it with all the other ingredients you need to be a successful quarterback. The consistency. The decision-making. The leadership. The temperament. My gut feeling is that a change of scenery is exactly what Rosen needed and that the lessons he learned as a rookie – some of them hard lessons – will benefit himself and the Dolphins moving forward. One thing is certain: This summer just got a whole lot more interesting.
Offensive lineman Michael Dieter
After starting 54 straight games at Wisconsin, you've got to figure this third-round pick will be in the mix for significant playing time. My best guess is that he'll play guard, though his versatility will be an asset. This is an old school, in-your-face type of player who goes as far as **calling himself "a mauler."** With his addition, this line just got tougher and more physical.
Linebacker Andrew Van Ginkel
The Dolphins went back to Wisconsin, this time for an **outside linebacker who some intriguing pass-rushing skills**. A junior college transfer, Van Ginkel had 11 sacks among 19 1/2 tackles for losses in his two seasons with the Badgers. With the Dolphins expected to shift between a 4-3 and a 3-4 defense, Van Ginkel provides another alternative on the outside at a position that, at the very least, could certainly use more quality depth.
Offensive lineman Isaiah Prince
The Dolphins needed to find a right tackle and they **found one with a lot of big time college experience**. Prince was Ohio State's mainstay at right tackle for the past three seasons, refining his skills at practice each day by going up against this draft's No. 2 overall pick Nick Bosa. The sixth-round pick will get a chance to play and start right away, given the uncertainty at right tackle after the free agency departure of Ja'Wuan James.
Running back Chandler Cox
Somewhere Larry Csonka must be smiling because this is the first time the Dolphins drafted a pure fullback since Reagan Maui'a back in 2007. The move makes sense. This new coaching staff, many of them from the Patriots, will incorporate an offense much like what we've seen in New England, and that means fullback friendly, at least some of the time. **Cox is what they had in mind.** Strong. Tough-minded. Loves to block. Can convert short yardage into first downs. There is a spot for him on the team. Cox just needs to go out and earn it.
Running back Myles Gaskin
With only **Kenyan Drake** and **Kalen Ballage** returning from last season, the Dolphins needed more depth at running back. What they also got in Gaskin is a **highly productive player with a clear upside**. Gaskin is Washington's all-time leading rusher with 5,323 yards and scored the most touchdowns (62) in school history. A lack of size (he is listed at 5-9, 205-pounds) is the reason he lasted until the seventh round. At the outset, he'll provide depth and help on special teams. But with his pedigree, you never know what he could become.