This was special. This was memorable. This was wacky, wild and wonderful.
This was a team that simply kept finding a way, a team that was undoubtedly ready to win again, and certainly played like it.
You can measure growth in all sorts of ways. What we witnessed Sunday in a pulsating, down-to-the-last-play 37-31 victory over the Philadelphia Eagles was the most impressive growth spurt yet.
On this day, amid some breakthrough performances and unforgettable plays, this young football team came together in ways many never thought possible. They beat a quality team at home. They did so after trailing by two touchdowns early in the third quarter, at one point scoring touchdowns on five straight possessions, not counting a kneel down to end the first half. They played with a confidence and a level of cohesiveness and efficiency that was both admirable and fun to watch.
In case you haven't noticed, that's three wins in the last five games.
"That's a really good team we beat," said coach Brian Flores. "We played well today. I'm proud of this team. I told them I'm thankful to be a head coach of this organization. This team doesn't get down. It just competes."
And while the victory was sweet, and certainly important for a team with three of its final four games on the road, the memories that will remain most vivid have little to do with the final score and more to do with how they got there.
They got there with a punter hitting a placekicker on a touchdown pass that, if there were such thing as a Trick Play Hall of Fame, would be a first-ballot nomination.
They got there with wide receiver DeVante Parker playing by far the finest game of his career, making at least four acrobatic catches, scoring two touchdowns and further solidifying his status as a long-term solution for this offense.
They got there with a coaching staff being bold and creative, going for it on fourth down, trying an onside kick to begin the second half, challenging and winning a pass interference call, adding some wrinkles to The Wildcat offense and capping it off with that remarkable trick play.
They got there with Ryan Fitzpatrick throwing for 365 yards and three touchdowns; with tight end Mike Gesicki catching 5 passes for 79 yards and getting a touchdown catch for the second game in a row late in the third quarter; with undrafted rookie Patrick Laird scoring both the game-winning touchdown on a 4-yard run and the ensuing two-point conversion and with the offense in general scoring on all four of its red zone possessions.
They got there with a defense that made key stops when it absolutely had to, none more important than a Hail Mary interception by Chris Lammons on the final play of the game.
"This is a team of fighters," Flores said.
We've got to start with Parker.
The numbers say this was his best game as a pro and the highlight reel catches only underlined it. I'm not sure, though, he has ever shown more of his complete repertoire on one play than he did than on his 43-yard touchdown catch in the first quarter of Sunday's game.
First he showed his speed, getting a step on Eagles cornerback Ronald Darby. Then he showed his hands and jumping ability, going high to pull down a well-thrown pass from Fitzpatrick. Finally, he showed both his balance and awareness, tiptoeing down the sideline the final 15 or so yards for the score. 
"An amazing play," Fitzpatrick said.
A few minutes later he was at it again, this time it was a 42-yard catch, once again out-jumping Darby for the ball and once again showing vice-like hands. It was like that all game. Need a big catch? A key first down? Parker stepped up every time, finishing with 7 catches for 159 yards. This was the player so many of us hoped he would become when he was taken in the first round of the 2015 draft. Now he has his statement game.
Then there was the trick play goal that also made a statement, a statement about doing whatever it takes, whatever play needs to be called. The more I watched the replay, the more I shook my head in disbelief.
It will certainly go down as one of the most bizarre touchdowns in team history, a fourth-and-goal from the 1-yard line, first set up as a field goal, then shifting to the weirdest of formations: 5 players split wide left, four players split wide right and only center Daniel Kilgore snapping to punter Matt Haack with two obviously confused Eagles' defenders trying to rush.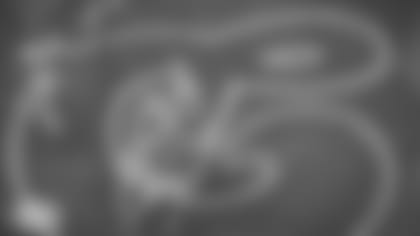 So the ball is snapped and Haack quickly fakes a run and, just like it is drawn up, then throws a short pass to a wide-open placekicker Jason Sanders who was one of those five players lined up far to the left.
The extra point gave the Dolphins a 14-13 lead, which soon became a 28-14 deficit and that's when they reeled off those 23 straight points that changed the complexion of the game and, who knows, perhaps the rest of the season as well.
See, this season was never about playing into January as much as it was about identifying a young nucleus and about creating a mindset and a culture that can carry over to future seasons.
That, more than anything else, is what made Sunday's victory so meaningful.