Tank Carradine was operating on very little sleep Thursday after arriving in South Florida around 1 a.m. and showing up at the Dolphins' training facility around 5:30.
But, as Carradine said after practice nine hours later, "Adrenaline is a good thing."
"Long night," Carradine said. "(But) I'm excited to be back. I'm happy to be back and practice and compete with the guys. It felt really good, so it didn't feel tired at all."
Carradine said he was in Texas training when he got the call from his agent that the Dolphins wanted to re-sign him.
Signed as a free agent in the offseason, Carradine started the first three preseason games along the Dolphins defensive line, which made his release in the cuts to the 53-player limit perhaps a tad surprising.
"I feel like I've still got a lot to prove," Carradine said. "The situation that happened, it kind of caught me off guard because I knew they felt that they made the best decision for the team, but that's something I had to deal with. I had to overcome it, so I just went back and I started training and do things, if I get back on the team make sure something like that won't happen again."
Carradine, a second-round pick of the San Francisco 49ers in 2014 who has played 45 games and eight starts, brings some experience to a Dolphins defensive line that includes rookie Christian Wilkins and third-year players Davon Godchaux and Charles Harris.
"He's a veteran guy," Godchaux said. "He's got some veteran skills. We're going to need that coming into a hostile divisional guy against the New England Patriots, a team that always comes down here and plays hard."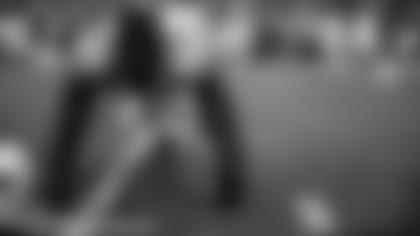 Godchaux and Carradine got involved in some friendly back-and-forth while Carradine was speaking to reporters, particularly when their college teams became involved.
"He's one of the guys who's competitive," Carradine said as Godchaux listened a few feet away. "We call each other when things aren't going right, try to stay on top of each other. But, yeah, excited to be back and talk trash to him because of LSU thinking they can beat Florida State."
Because he was with the team throughout training camp, Carradine should be in a position to contribute very quickly and extensively.
He's looking forward to the challenge of helping slow down the talented New England Patriots offense.
"Going against a good offense, a really good offense, I'm excited," Carradine said. "This is another challenge for the defense being able to redeem ourselves and come back and show everyone last week is a fluke. That's not us. That's not how we work. We compete really hard and we're going to go out there and show that we are a good team.
"(Last week) hurt because I knew that I wanted to be out there and compete with the guys. I knew that I could have been out there helping that defense, the D-line. I knew they could have used a guy like me. I had to get over it, but it hurt. Now I'm glad to be back, get another chance to compete and be able to go out there and play the New England Patriots."