Veteran Ryan Fitzpatrick provided a spark for the Dolphins against the Washington Redskins on Sunday, but Head Coach Brian Flores said after the game that Josh Rosen remains the starter.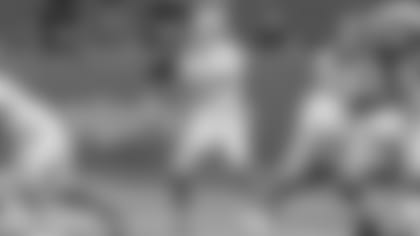 "I think Josh has done a good job," Flores said. "I think today he wasn't having a good day, and I think we're always going to do what we feel is best for the team and today that was 'Fitz' going in in the fourth quarter.
"Josh is the starter, I would say. But as this thing – as we continue to move along – there's always competition. I think everyone needs to feel that. I need to feel that. The players need to feel that. I think we know 'Fitz' was ready to go in today. I think he played well."
Fitzpatrick was 12-for-18 for 132 yards with one touchdown and no interceptions against Washington, posting a 106.7 passer rating. In his three quarters of work, Rosen was 15-of-25 for 85 yards with no touchdowns and two interceptions.
The move was made when the Dolphins had their first drive of the fourth quarter, which began at their own 45-yard line after Washington missed a 55-yard field goal attempt.
"I felt like we needed a spark," Flores said. "We were down 17-3 at that point. The defense actually made a good stop to keep it to a two-score game or 14-point game. We just felt like that was the right move in that moment, the way we were going offensively. We had to get a spark going. We had to get something going."
Rosen said Flores told him of his decision as he walked off the field after his last drive of the third quarter, which ended with him being sacked for the fifth time.
"I was disappointed, but I understood the situation," Rosen said. "I mean, it obviously was a smart decision given how the game almost ended. 'Flo's' job first and foremost is to win football games and I respect the decision, and it's my job to not put him in that position.
"It was obviously a disappointment for me, but we almost came close to our first team win, which is awesome regardless of who is behind center. I'm a Dolphin first and foremost and that was good, but I mean I've definitely got to get better personally."
Rosen will get the chance to rebound next Sunday when the Dolphins face the Buffalo Bills at New Era Field.
"Josh will continue to be the starter," Flores said. "If we feel like we need a spark and Fitz has to go in, we'll continue to do that."