If there were any doubts left about DeVante Parker's emergence as an elite wide receiver in 2019, those should be gone after what he did Sunday at Gillette Stadium.
Parker put the finishing touches on his breakout season with a huge performance against Stephon Gilmore, the Patriots cornerback many had touted as a leading candidate for NFL Defensive Player of the Year honors.
With Gilmore covering him most of the game, Parker finished with eight catches for 139 yards in the Dolphins' 27-24 victory.
The 139 receiving yards were the most for any New England opponent this season, while the reception total was the highest for any opposing wide receiver and second for any position behind the nine by Philadelphia Eagles tight end Zach Ertz.
Parker, who always prefers keeping a low profile off the field, said, "It was pretty good."
So we'll let his teammates talk about Parker's performance.
"It was very good," said fellow wide receiver Allen Hurns, who was inactive because of injuries. "We all knew that coming into this week. This was probably his best week of practice as well. He always has good practices, but this week he for sure was amped up for that one.
"It just shows a lot of people probably don't pay attention to our team or watch our team, but if you watch, you know DeVante each and every week, he's making plays no matter who was on him, whether the best corner is going to follow him or whatever the case may be. He's going to make his plays. It just shows who DeVante is and he should have been a Pro Bowler."
Quarterback Ryan Fitzpatrick talked after the game about his confidence that Parker would be able to win his battle with Gilmore.
"Well, you know, Steph is a special player and has been all year and has been for years now," Fitzpatrick said. "For us and for me as a quarterback, I'm always going to rely on my playmakers, and DeVante has been that guy all year long. There were a couple that maybe I didn't get in there, make the throw or Steph did a good job with. But I wasn't going to shy away from a matchup — not because I don't respect the other guy but because I have that much confidence in our guy. DeVante really stepped up big today."
Gilmore finished the 2019 season in a three-way tie for first in the NFL in interceptions with six, including a pick-six in the Patriots' victory at Hard Rock Stadium in Week 2.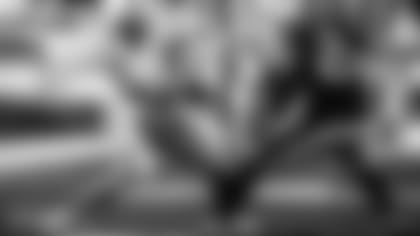 In that game, Parker did not have one catch despite being targeted seven times. 
Throughout the season, Gilmore was matched up against star receivers like DeAndre Hopkins, Amari Cooper, Odell Beckham Jr. and John Brown, and not one of them reached 70 receiving yards.
Parker had 67 yards by halftime Sunday.
If Gilmore won the first battle, Parker won the rematch.
"He made good catches, made some tough plays," Gilmore said. "He had a better day today."
Parker's big day was highlight by his 24-yard reception on the game-winning drive, which gave the Dolphins the ball at the New England 29-yard line.
It was one of four catches of 20 yards or longer in the game for Parker.
"I thought DeVante played well," Head Coach Brian Flores said. "I kind of challenged him earlier this week about this match up with Steph. And I thought he stepped up to that challenge and played well. Made a lot of plays and we needed them all."