It was the kind of magical game-winning drive that's happened quite a bit at Gillette Stadium, but it was the Miami Dolphins who pulled it off Sunday.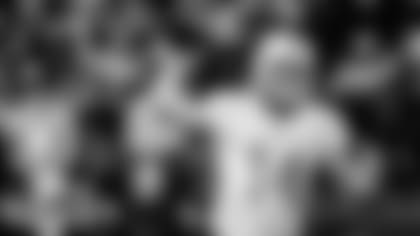 Trailing by four with 3:53 left in the fourth quarter, the Dolphins pulled off a stunner when they marched 75 yards in 13 plays and got a 5-yard touchdown pass from Ryan Fitzpatrick to tight end Mike Gesicki on first-and-goal.
"It was a great feeling," Gesicki said. "It was fun. But it was just (5) yards. There was a lot of stuff that went on before that. A lot of guys made plays to get us down there. I was just happy to finish it off and just make a play."
All but one of the plays was a Fitzpatrick throw, and he was 9-for-12 for 77 yards, the other play coming when the shotgun snap got to him before he was ready and he fell on the ball for a 2-yard loss.
The game-winning drive after New England took its only lead of the game on a 13-yard pass from Tom Brady to running back James White after trailing 20-17.
"We definitely had a lot of confidence," Fitzpatrick said after the game. "Once they got down there, I was kind of happy they took the lead rather than tied it up. It was really all on us to go down there and score a touchdown or not."
The Dolphins faced two third-down situations during the game-winning drive, converting a third-and-1 with a 5-yard pass to Isaiah Ford and converting a third-and-5 with a 7-yard pass to Albert Wilson.
The drive also put the finishing touches on DeVante Parker's big day against cornerback Stephon Gilmore, who some have pushed as a leading candidate for NFL Defensive Player of the Year.
Parker had three catches for 37 yards on that final drive to put his final numbers at eight catches for 137 yards — the most receiving yards by a New England opponent in 2019.
The biggest gain on the final drive came courtesy of — who else? — Parker, who beat Gilmore on a 50-50 ball for a 24-yard gain to the New England 29-yard line.
This marked the second time in two seasons the Dolphins beat the Patriots with a late offensive touchdown—the other was the Miami Miracle last season at Hard Rock Stadium.
Still, considering this one took place at Gillette Stadium, where the Dolphins hadn't won since 2008 and where Brady had produced so many great comebacks himself.
After the Dolphins scored, the Patriots got one first down to its 37-yard line and the game ended with them trying to produce a "New England Miracle" with a play that featured seven laterals.
But that play ended with Jerome Baker tackling James White and forcing a fumble that was recovered by fellow linebacker Sam Eguavoen.
This victory, though, will be remembered for the tremendous game-winning touchdown drive.
"A great situation to be in with a lot on the line for them and for us maybe not as much on the line, but the pride and all the things we've gone through this year, there was a ton on the line for us too," Fitzpatrick said. "I'm just proud of the way we played, proud of the way we coached today. Sometimes you don't get rewarded but this was a big reward for the guys that stuck with it all year."