Eric Rowe's first season with the Dolphins worked out better than he could have anticipated in several ways.
And that's why it will lead to more seasons with the Dolphins.
Rowe's focus in 2019 after signing a one-year contract to come play in Miami was to re-establish himself after dealing with injuries the past couple of seasons.
He became one of the key members of the Dolphins secondary, in the process showing the versatility that Head Coach Brian Flores cherishes along with the willingness to do whatever is best for the team.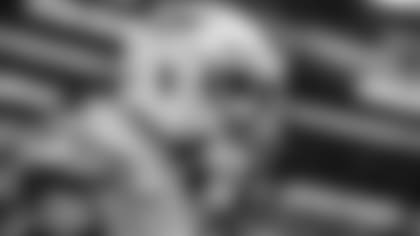 "It's great," Rowe said after practice Wednesday. "I'm excited to be here, add some more years, to keep playing football. Keep playing football somewhere that you like. I was blessed to get to a place I like, teammates, coaches I like, so getting that deal is amazing."
Rowe said he wasn't thinking beyond this season when he signed with the Dolphins as an unrestricted free agent back in March after two injury-plagued seasons with the New England Patriots.
Frustrating as those two years were, they did give Rowe the chance to make an impression on Flores, who obviously liked him enough to want to have him in South Florida.
"I was strictly focused on this year," Rowe said. "The past couple of years I had been injured, dealing with surgery. That's my first year being healthy and that part I was like, we need to focus on just playing good ball out there. Everything will just fall into place after that."
While Flores says Rowe has room for improvement against the run, there is no denying the strong work he has done in coverage since moving from cornerback to safety after two-time Pro Bowl selection Reshad Jones was sidelined with a chest injury in October.
Rowe could end up switching back to cornerback at some point, though he's full prepared to continue playing safety, a position he played during his days at the University of Utah.
"They like me at strong safety," Rowe said. "I'm covering tight ends, fitting in the run when I need to. They see me there. It's not a bad thing for me."
It definitely was a good thing for the Dolphins that Rowe was so receptive when they approached him about moving to safety after his three-year NFL career had been spent at cornerback.
For Rowe, there never was any hesitation.
"They were like, 'Hey, we need you at safety. Reshad is dealing with some injuries, we really don't have anybody left,' " Rowe said. "I'm like, all right, I'll go back there. I've still go out there and cover, that's all that matters.
"When they moved me there, hey, it's what the team needs. Anything we've got to do to win. Doing that role and I was like, all right, I'm going to do the best I can do. Obviously it turned out great."
It turned out better than Rowe probably could have imagined, actually.
And the topper came with an extension that Rowe didn't see coming.
"I had no idea, no idea," he said. "I just kept playing week to week and my agent was like, 'They want to extend you.' I was like, 'Oh shoot, that's great.' I don't have to worry about free agency, kind of like where am I going to be next year? (Or) me and my wife have got to move. You know how all that goes. Stability. Everything is great."
Another factor Rowe likes is the steady improvement he has seen from the Dolphins through the course of the 2019 season.
That has him excited about being a key player in the eventual resurgence of the team.
"It's tough to say with the record on the outside, but everyone here is getting better," Rowe said. "As a team, offense, defense, special teams, we're all getting better as a team. With new coaches and new guys, things kind of like rebuild, but I already see in the future it's going to be a lot better."