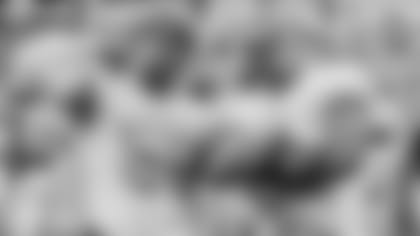 The two enjoyed success as starters for the Ohio State linebacker corps a few years back, and they're now doing the same for the Dolphins.
"When we're both playing well together, it's a different feeling," Baker said. "It's definitely fun to be out there with him. We have a different trust level. Our comfort level compared to a lot of our teammates, we've just been playing with each other, been knowing each other for so many years, it's kind of expected to have that connection."
Their relationship is unique because they happen to play the same position and attended the same college.
They joined the Dolphins a year apart, McMillan as a second-round pick in the 2017 NFL draft and Baker as a third-round selection in 2018.
Linebackers coach Rob Leonard says it's easy to say how comfortable they are with each other.
"In my opinion, just in terms of communication and giving each other a hard time or whatever it may be, you have trust right off the bat," Leonard said. "You know where the other person stands. Just watching the way they interact is like watching two brothers at times. That only helps."
Rookie tackle Isiah Prince played at Ohio State with both Baker and McMillan, and he also likened the two to siblings.
"Kwon is the older brother," Prince said. "Definitely a great relationship. They feed off of each other. It's crazy that now they're in the NFL playing together. I watched them grow together at Ohio State. I definitely think it's a close relationship."
The bond only strengthened last year when Baker came in as a rookie and McMillan served as his mentor.
While he had missed his entire season because of a knee injury, McMillan had gone through a year of NFL life and provided guidance for Baker — as well as confidence.
"From last year, my rookie year, I leaned to him so much in the sense … he knew I could play," Baker said. "When you're first in the NFL, you know you can play, but it's different when you actually go out there and actually play well. He saw it in me. He believed in me."
These days, Baker and McMillan have plenty of believers.
Baker and McMillan rank first and second on the team in tackles with 54 and 52, respectively.
While McMillan has been solid the entire season, Baker really has come on of late, looking more and more like the player who stood out throughout training camp and the preseason.
""(I see) a guy that's played more football and is building confidence with the snaps he's played and building confidence amongst his teammates and the trust," Leonard said. "I talk to the guys a lot about (how) there's a difference between knowing what to do and where it becomes second nature and you're just reaction. There's a difference. Just because you give me the answer doesn't mean it's going to happen that fast on the football field. After things are starting to repeat, his confidence is coming. He's just naturally reacting, which is the goal. We're just playing football. In my mind, he should be the fastest one … out of my room, he should be all over the field. He's slowly getting there and it's encouraging."
What Leonard says has stood out about McMillan has been his physicality and doing a good job with his pre-snap reads.
Baker and McMillan, who both have started seven of the eight games, also benefit from their familiarity with each other.
"Baker and Raekwon have that history," said fellow linebacker Vince Biegel. "They even reference Ohio State things in our meetings. I can definitely sense that they have that communication, even though they might not be verbalizing it, they have that type of relationship, that communication with each other that helps our defense.
"Raekwon on the field, he's more vocal than Baker. Baker is definitely goofy. Baker is kind of the more laid-back, more free-spirited, and Raekwon is all business. I'm kind of an all-business guy, but I love the energy that Baker and Raekwon both bring."
It's obvious that the two former Ohio State linebackers enjoy playing with each other.
"It always feels good playing out there by my boy," McMillan said. "He's kind of the run-around guy, the fast guy. I'm kind of the thumper downhill, inside out to the ball type guy. He's making plays all over the field and I'm just handling the business up front.
"We've just got a chemistry out there on the field. Some things that take a pair of guys a little while to get used to, we go through it throughout the week and then by the game comes we've got it down pat."