Ryan Fitzpatrick described the Dolphins offense after the victory against the New York Jets as "trending right now," and the numbers certainly back that up.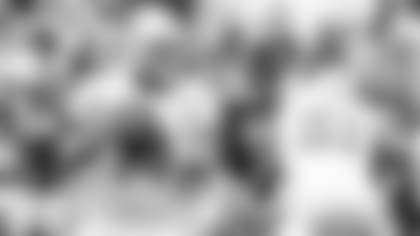 A big reason for that upswing has been the play of the bearded slinger himself.
The Dolphins offense has come to life since the fourth quarter of the game against the Washington Redskins on Oct. 20, and while it clearly has been a team effort, there's no denying the impact Fitzpatrick has made.
In the past three-plus games — also including the games against Buffalo, Pittsburgh and the Jets — Fitzpatrick is humming along at a 95.3 passer rating clip, thanks to a 65 percent completion rate with seven touchdowns and three interceptions.
The seven touchdowns is tied for fifth in the NFL over the past four weeks — and remember that Fitzpatrick didn't play in the first three quarters of the Washington game.
To put the 95.3 passer rating in perspective, that figure over a full season would rank fifth in Dolphins history behind four different seasons by Dan Marino and the 2008 performance of Chad Pennington.
And it should be pointed out that Fitzpatrick's passer rating was hurt by his two interceptions against Pittsburgh, one of which came when a perfectly thrown pass bounced off tight end Nick O'Leary and the other coming on a third-down bomb that essentially served as a punt down to the Steelers three-yard line.
Bottom line, the numbers have been good recently but Fitzpatrick has played even better than that.
"I think the biggest thing that he's been able to do is he sees the defense really well, he knows what's going on out there, he's really well prepared, he knows what to expect, he knows the weaknesses of what they're trying to do and where we could maybe try to exploit where the matchups are," assistant quarterbacks coach Jerry Schuplinski said. "I think that along with the fact that he's able to get the ball out really quick. I think it has been a huge help to our offense, been a huge help to our guys up front that he knows there's that time clock in his head that he can't really hang on to the ball, he's got to make a decision with it and go. He's been doing a good job for the most part of taking care of the football, which has helped."
Fitzpatrick has been known as a streaky player throughout his long NFL career, and he's going through a very good stretch right now.
But in typical Fitzpatrick fashion, he wasn't going to take full credit after his three touchdown passes against the Jets.
"I think overall we've just been a little more consistent," Fitzpatrick said. "The communication is a little bit better. We have gotten in a good flow Wednesday, Thursday, Friday, of putting the game plans together and getting guys to really buy in and it's nice to do that and then to see things work on Sunday the way that (Head) Coach (Brian Flores) put it in or the way that a coach saw it. That's been nice for us, and I think just the fact that everybody is still bought in and there's not feelings of guys hanging their head and mopey — everybody's coming to work trying to win — that's been a nice push in the right direction for us."
Schuplinski has enjoyed his first season working with Fitzpatrick because, among other things, they can talk family since the quarterback has seven children and the coach has four.
But there's something else about Fitzpatrick that Schuplinski really likes.
"He's a special guy," Schuplinski said. "He's really talented. I'm learning, personally, how to work with all of that. So, I would say the best part about him that I really respect is we have great dialogue back and forth in the meeting room and then you could bring (Offensive Coordinator) Chad O'Shea into the mix too, so we talk a lot. There's certainly a 'FitzMagic' here or there, sometimes when the ball gets snapped, but for the most part most of that stuff is discussed, talked about, little adjustments, little intricacies here, maybe an add-on a certain route here, take something away here. He's very good in his input and I think we take that into consideration because he's seen a lot of things and done a lot of things in this league."
Fitzpatrick has been doing mostly good things over the past few games to lead the offensive resurgence, and O'Shea that continues from both his quarterback and the entire unit.
"I think that some guys are playing well around him," O'Shea said. "I think that at that position, sometimes you just look at the success of the quarterback position and you think it's just him, but you rely so heavily on the other guys and their consistency and I think that we've been able to be more consistent around him. He's taken advantage of that consistency around him and really played very well for us."