Mike Gesicki will be going back home for a second consecutive weekend, but there's something more special about the game against the New York Giants for the New Jersey native.
This time, Gesicki will be facing he grew up watching and he'll get the chance to catch up with his former Penn State teammate — and the Giants' most famous player — Saquon Barkley.
"It will be a cool experience," Gesicki said. "I grew up a big Giants fan. I watched every single game. Me and my dad on Sundays, we'd sit there on the couch and watch all of the games. It was cool. It was fun, and now to kind of have that opportunity to go against them, it will be fun."
Gesicki was 12 years old when the Giants defeated the New England Patriots in Super Bowl XLII, and he remembers very well the famous catch by wide receiver David Tyree when he pinned the football to his helmet after Eli Manning escaped what appeared to be a sure sack.
Manning very well might start against the Dolphins on Sunday after he subbed for injured rookie Daniel Jones against the Philadelphia Eagles on Monday night.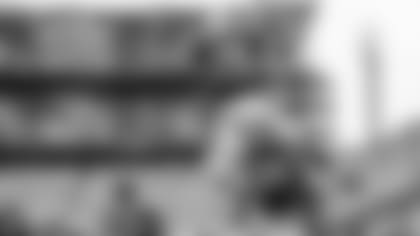 "I was a big Giants fan growing up," Gesicki said. "That was my team. I remember that one, and then I remember the one a couple of years after that. It will be cool to go up and play against them, kind of relive some of those memories. Yeah, I'm excited about it.
"(Manning) obviously has a ton of respect around the league for all of the accomplishments that he's had throughout his career. I grew up watching him. It will be cool to kind of be on the other side and to watch it first-hand. But ultimately we have one goal: It's to go up there and get a win."
The same held true last Sunday when Gesicki was MetLife Stadium for the game against the Jets.
Gesicki, a native of Manahawkin, New Jersey, said he couldn't quite put a number of family members and friends he had at the game, only that it was a lot.
"It was cool," he said. "Obviously I wish it went differently and all that kind of stuff, but that's how this game goes. But it was cool to kind of get back up and play in New Jersey and I get a second chance this week."
Gesicki and Barkley were teammates at Penn State from 2015-17 and they both were stars on the 2017 team that finished 11-2 and went on to play in the Fiesta Bowl.
Barkley was the star, finishing with 1,903 yards from scrimmage and 23 touchdowns, but Gesicki was a major contributor as well as he led the team in catches with 57 and tied for the team lead in touchdown receptions with nine.
"It was fun," Gesicki said. "We had a lot of success together as a team throughout those couple of years. We won some big games, did some fun stuff, but that's all behind us now.
"I'm sure we'll catch up after the game. He's had a ton of success there, and I'm happy for him. Ultimately we're going up there to try to get a win and then we'll catch up afterward."