Maybe it's the thick beard or perhaps it's his thick body, but Ryan Fitzpatrick doesn't really look like someone who should be able to do a lot of damage running the ball.
But that's exactly what Fitzpatrick keeps doing.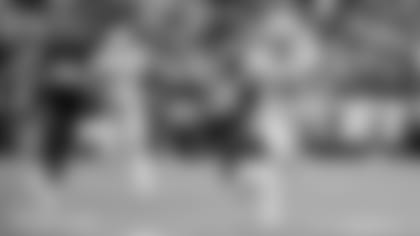 The Dolphins quarterback was at it again Sunday against the New York Jets when his 65 rushing yards set a franchise record for the position.
"I've been really impressed with what he's done," offensive coordinator Chad O'Shea said Tuesday. "Again, I think it shows the trait of the player and the person, just his desire to try to make a play. Athletically too. He's really done a good job of playing off schedule and being able to scramble. I've been really impressed with that."
Fitzpatrick's 65 yards topped the previous Dolphins quarterback record of 59 yards, set in 2011 by Chad Henne in the Monday night opener against the New England Patriots.
The 65 yards tied for 13th-highest total for an NFL quarterback this season, but it was fifth if you take Baltimore Ravens 1,000-yard rusher Lamar Jackson out of the equation.
"A lot of it has to do with (the fact) he's very instinctive," O'Shea said. "He's got great pocket awareness. He knows exactly the right time to do it. That has a lot to do with it. He's probably more physically gifted than people give him credit for, but a lot of it has to do with just his overall awareness and being a very instinctive player at the position."
Against the Jets, Fitzpatrick had the Dolphins' longest run of the game, a 20-yard scramble in the second quarter. He followed that two plays later with a 14-yard scramble, where he lateraled to tight end Clive Walford before being tackled for an additional 4 yards.
Fitzpatrick's previous season high for rushing yards was 45 against the Cleveland Browns on Nov. 24. In that game, he had his third rushing touchdown, leaving him one short of the single-season team record for quarterbacks shared by David Woodley (1981), Jay Fiedler (2001) and Cleo Lemon (2007).
For the season, Fitzpatrick has 186 rushing yards, which ranks 10th in franchise history among quarterbacks. The record is 321 and was set by Fiedler in 2001.
O'Shea was asked Tuesday whether he had considered putting in designed running plays for Fitzpatrick.
"At this point, he's doing it himself, so why waste the time?" O'Shea said with a smile. "He's done such a good job in that area. Again, it's another area where the team really gravitates toward him and it brings energy to the team when he does make a run like that. It's great to have."