All records are made to be broken, and so it was that a long-standing Dolphins mark fell Sunday, courtesy of Jason Sanders.
Sanders eclipsed a team record that had stood for 20 years when he kicked seven field goals in the 22-21 loss against the New York Jets at MetLife Stadium on Sunday.
While breaking Olindo Mare's previous team record of six made field goals, set in 1999 in a 31-30 victory against the New England Patriots, Sanders tied an NFL record with his eight field goal attempts. That record first was set by Billy Cundiff of the Dallas Cowboys in 2003 and tied by Rob Bironas of the Tennessee Titans in 2007.
Bironas was 8-for-8 in that 2007 game, and that stands as the NFL record for most made field goals. Cundiff, like Sanders, went 7-for-8.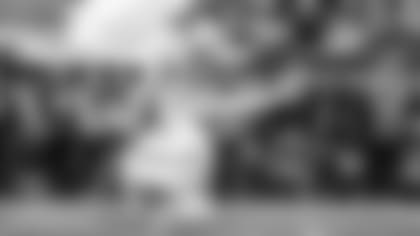 The Dolphins' previous record for field goal attempts in a game was six, by Mare in that 1999 game and by Dan Carpenter in 2010 when he went 4-for-6 in a 33-17 victory against the Oakland Raiders.
Against the Jets on Sunday, Sanders connected from 22, 25, 28, 31, 53, 47 and 37 yards. He became the eighth kicker in NFL history to make seven field goals in a game, joining Bironas, Cundiff, Jason Myers, Greg Zuerlein, Cairo Santos, Chris Boniol and Shayne Graham.
Like Graham before him, Sanders accounted for all the Dolphins scoring with his seven field goals. He kicked one field goal in the first quarter, two in the second, one in the third and three in the fourth.
Sanders gave the Dolphins the lead twice in the fourth quarter, first with his 47-yard field goal and then with his 37-yarder with 1:33 left.
Sanders' previous career high for field goals made and attempted came Nov. 11, 2018 when he was 4-for-4 against the Green Bay Packers.
The field goal record had been one of the Dolphins' longest-standing single-game records.
The oldest record is the one for most interceptions in a game, set in 1973 by Dick Anderson when he had four against the Pittsburgh Steelers. The record for most touchdown receptions in a game of four also was first set in 1973, by Paul Warfield, before it was matched in 1994 by Mark Ingram in the famous "Fake Spike" game against the New York Jets.
The sack record of five, first set by Vern Den Herder and Bill Stanfill, dates back to 1973, although sacks didn't become an official NFL stat until 1982. The official sack record was set in 2012 by Cameron Wake when he had 4.5 against the Arizona Cardinals.
The Dolphins record for most passing touchdowns in a game first was set in 1977 by Bob Griese and was matched in 1986 by Dan Marino.
Other major Dolphins single-game records were set in 1988 (most passing yards, 521, by Dan Marino); in 2002 (most rushing yards, 228, by Ricky Williams); in 2005 (most receptions, 15, by Chris Chambers); and in 2008 (most rushing touchdowns, 4, by Ronnie Brown).