Tight end Mike Gesicki has been getting more and more chances lately to show off his pass-catching ability, using his obvious athletic ability to make plays down the field.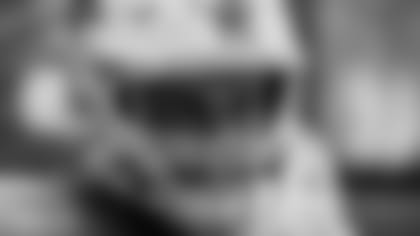 For the 2018 second-round pick out of Penn State, though, it's just about continuing to develop as a player and trying to produce whenever his number is called.
"Obviously I'd like to help the team in any way possible to ultimately help us win," Gesicki said. "Right now we're getting close. It's right there. We've just got to be able to finish off these games. The last couple, they're right there that we could have come out with a win. Obviously I'd like to make plays and help us finish off the game and get a win. Hopefully another opportunity this week for us to go out and if my number gets called and the opportunity to make a play, then I'd love to do it."
Against the Buffalo Bills last Sunday, Gesicki tied his career high with four catches, good for 41 yards.
Included was a 17-yard reception to convert a third-and-9 at the beginning of a third-quarter drive that consumed 9:59. Gesicki also converted a fourth-and-8 on the Dolphins' final touchdown drive with a 9-yard catch.
His best effort actually came on a play that didn't count, a 28-yard high-point catch down the middle in the fourth quarter that was nullified by a holding penalty.
The previous week against the Washington Redskins, Gesicki had a career-high 51 receiving yards, thanks in large part to a 30-yard catch down the middle on the drive that ended with Ryan Fitzpatrick's touchdown pass to DeVante Parker and gave the Dolphins a chance to pull out a victory with their two-point conversion attempt.
"That is kind of what I envision myself in this offense," Gesicki said after the Washington game after that career-long 30-yard catch. "That is kind of the role that I see myself having in this offense. When the ball is in the air, you've got to go up and make (the play). There were a couple of plays out there today, some of them got batted down and things like that, but just knowing that the coaches, the quarterbacks, and the system is kind of trusting me to go make the play, that is kind of a big feeling for me just because it has been a while."
While the opportunities maybe weren't as abundant earlier as Gesicki would have liked — they really never are for receivers or tight ends — he said he always remains confident he could produce when presented with an opportunity.
"I was kind of asked this a couple of weeks ago if my confidence has wavered not getting the ball; I'm the same as I've been," Gesicki said this week. "I'm confident in what I'm able to do and given the opportunities over the last couple of weeks, I think the preparation that I've had with this coaching staff and the belief that they've had in me, giving me the opportunities the last couple of weeks, (I've) just gotta go out and make the most of them when they come."
That has been the key for Gesicki's recent surge, some good work in practice.
"I think the tape that's really showing up is his practice tape because the practice tape is really transferring to the game," offensive coordinator Chad O'Shea said. "He's had two really good weeks at practice, and it really hasn't been a surprise that he's kind of taken that to the game. He's been able to really make some nice catches and kind of do it in a couple of different ways of where we've aligned him. I think he's making the most of his opportunities, and I think he's making the most of his opportunities on the practice field and really then doing that in the game."
Thanks to Gesicki's contributions, the Dolphins offense produced season highs in points (21) and total yards (381) against Buffalo last Sunday. Both totals also were the highest against the very talented Bills defense in 2019.
Clearly, there have been signs of progress for the Dolphins offense — and the team in general — and Gesicki is excited about what the future holds for the organization.
He also is looking forward to being a part of what's to come.
"I want to be one of the guys on this team moving forward that gets us where we belong, being a really successful team moving forward because I think we have the pieces, we have the coaches, we have a great organization, just everything collectively," Gesicki said. "I think we're getting close and I'd love to be a part of it."