Nik Needham's first NFL season has been a roller-coaster ride for sure, and it's most definitely on the upswing right now.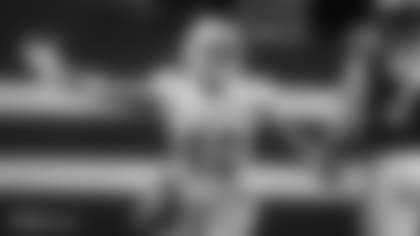 The Dolphins cornerback is coming off the finest performance of his young NFL career, a performance that included playing every defensive snap in the 16-12 victory against the Indianapolis Colts and coming up with a key interception among his three passes defensed.
This was heady stuff indeed from a rookie who went undrafted, didn't make the initial 53-man roster and worked his way back after a stint on the practice squad.
"Nik came in undrafted free agent and he did the stuff that we talk about," defensive coordinator Patrick Graham said Tuesday morning. "You try to explain to those guys when you're going to calling them on the phone to come here, you have a chance to work hard, you have the opportunity. And he did that. He came in here, worked hard, got cut. We knew the work ethic was there, but got cut. Told him what he needed to do in order to … (defensive pass game coordinator/cornerbacks coach Josh Boyer) did a great job of explaining exactly, 'This is what you're going to have to do. You're going to have to transform your body. In terms of how important it is to you. The decisions you're going to have to make.' And he did that.
"And now he's starting to see, really, the fruits of his labor in terms of the success on the field. He knows he still has a long way to go. This week is going to be a huge challenge with the receivers we're going to see here from Buffalo. But he's making steps in the right direction."
Since being promoted off the practice squad Oct. 12, Needham has started four of the past five games.
His performance against the Colts was part of a strong effort by the Dolphins' young secondary, which picked off quarterback Brian Hoyer three times and held him to a 38.8 passer rating.
Needham signed with the Dolphins as a rookie free agent in May after earning honorable mention All-Conference USA recognition the past two seasons.
He made enough of an early impression with the Dolphins that he started three of the four preseason games, which clearly meant the coaching staff saw something in him.
"Josh Boyer, it's March and he goes, 'I think I've got a kid from UTEP who's pretty decent,' " Head Coach Brian Flores said Monday. "When he says 'pretty decent,' that means he's probably pretty good. We brought him in as a free agent and he did some good things in OTAs and had some struggles like most rookies do in the preseason and wasn't quite ready, so we put him on the practice squad.
"I think getting released and going through that process (practice squad) took him through a little bit of the reality of what the National Football League could be. It could be over in a heartbeat. He embraced that challenge and turned things around quickly and I would say took everything a little bit more seriously — meetings, practice, walk-through, weightlifting, nutrition. He's turned some things around and he's still got a long way to go, but all of those things play a role in kind of how we performed yesterday and hopefully he continues to do that."